Malinga's hat-trick wrecking balls smash Kenya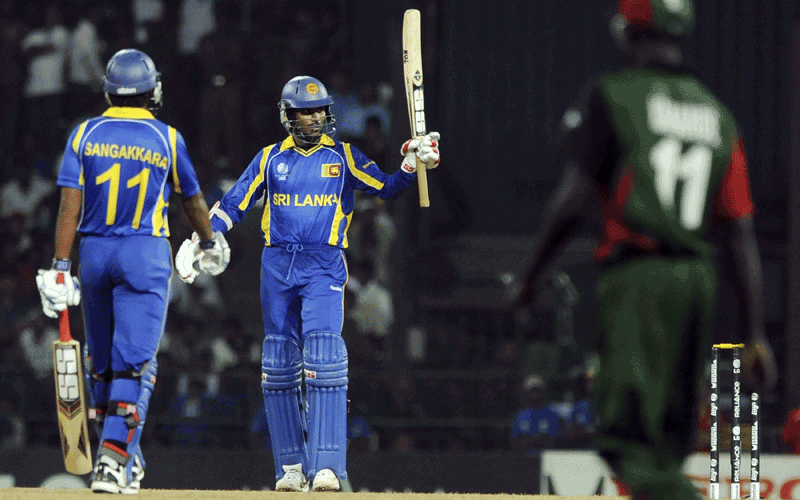 Demolition man Lasith Malinga became the first bowler to pick up two hat-tricks at World Cups as he led Sri Lanka to a nine-wicket flattening of Kenya on Tuesday.
The seamer, who missed his side's opening two Group A matches with a sore back, roared back with the wickets of Tanmay Mishra (0), Peter Ongondo (0) and Shem Ngoche (0) with successive, full deliveries, the latter two clean bowled.
After finishing with a career best six for 38 to dismiss the Africans for 142, a relaxed Malinga sat back in the pavilion and watched his team mates barely break sweat as they overhauled the total in just 18.4 overs.
In 2007, Malinga grabbed four in a row against South Africa.
"Lasith, as usual, the champion that he is, the ball reversing, he did a great job for us," summed up Sri Lanka captain Kumar Sangakkara, whose team finished on 146 for one.
His Kenyan counterpart Jimmy Kamande was equally impressed: "We know Malinga, we have seen him before, though we haven't played against him. He's a world-class bowler and congrats to him for the hat-trick and all the wickets he got today."
It was the second hat-trick in two days at the World Cup after Kemar Roach took the last three Dutch wickets in West Indies' 215-run victory in Group B on Monday. This was the seventh hat-trick in a World Cup.
The last time the teams met in the World Cup, Sri Lanka suffered a shock 53-run defeat in 2003.
However, an unstoppable Malinga made sure there would be no repeat of that result in Colombo on Tuesday. Kenya crumbled from a respectable 102-2 to 142 all out in 43.4 overs after choosing to bat first, with the Obuya brothers the only batsmen to reach double figures.
A 94-run partnership between Collins Obuya (52 off 100 balls) and his elder sibling David (51 off 106 balls) raised hopes that Kenya might cross the 200-run mark before Malinga flummoxed them with a stunning final burst to blow away the Kenyan tail.
UNPLAYABLE YORKERS
He got rid of Collins with a toe crusher in the 32nd over before returning for his final burst to flatten the Kenyans with near-unplayable inswinging yorkers as he bagged four wickets in five legal balls over two overs.
Malinga trapped Mishra lbw with the final delivery of his seventh over and then returned to knock over the stumps of Ongondo and Ngoche with the first two balls of his next over.
Sri Lankan fans were already dancing in the stands to celebrate the achievement and when Malinga grounded Elijah Otieno's leg stump to grab his sixth victim of the day, a deafening roar reverberated around the R Premadasa Stadium.
Malinga could only shake his mass of blond-tinted hair in disbelief as he looked up to the arena's giant scoreboard which displayed a sign reading 6-38 underneath a picture of the man of the moment.
The Kenyans were left to reflect on their dramatic collapse as it took only 22 deliveries for them to go from 127 for four to being bowled out -- with four batsmen falling for a duck.
Once Malinga had played his part, Sri Lanka knocked the runs off the runs in double quick time, with Tillakaratne Dilshan the only man to fall for 44.
Upul Tharanga ended the match with a boundary struck over cover to remain unbeaten on 67 scored off 59 balls with 12 fours. Sangakkara was 27 not out.
This was Sri Lanka's second win out of three matches in Group A, while Kenya slumped to their third successive defeat.
Scorecard
Kenya innings
M. Ouma lbw b Kulasekara 1
S. Waters lbw b Malinga 3
C. Obuya b Malinga 52
D. Obuya c Samaraweera b Muralitharan 51
S. Tikolo c Dilshan b Mathews 7
T. Mishra lbw b Malinga 0
J. Kamande run out 1
N. Odhiambo not out 8
P. Ongondo b Malinga 0
S. Ngoche b Malinga 0
E. Otieno b Malinga 0
Extras: (b 1 lb 6 w 9 nb 3) 19
Total: (all out; 43.4 overs) 142
Fall of wickets: 1-4 2-8 3-102 4-120 5-127 6-128 7-137 8-137
9-137 10-142
Bowling: L. Malinga 7.4-0-38-6 (2nb, 3w), N. Kulasekara
9-1-18-1, A. Mathews 7-0-20-1 (1w), A. Mendis 9-2-23-0, M.
Muralitharan 8-0-24-1, C. Silva 3-0-12-0 (1w)
Sri Lanka innings
U. Tharanga not out 67
T. Dilshan c Ouma b Otieno 44
K. Sangakkara not out 27
Extras (w 7 nb 1) 8
Total (for one wicket; 18.4 overs) 146
Fall of wicket: 1-72
Did not bat: M. Jayawardene, T. Samaraweera, C. Silva, A.
Mathews, N. Kulasekara, M. Muralitharan, L. Malinga, A. Mendis
Bowling: P. Ongondo 3-0-28-0 (1w), N. Odhiambo 5-0-26-0, S.
Ngoche 4-0-39-0, J. Kamande 1-0-14-0 (2w), E. Otieno 4-0-26-1
(1nb, 1w), C. Obuya 1.4-0-13-0 (1w)
Result: Sri Lanka won by nine wickets
Kenya won the toss and elected to bat.
Cricket World Cup Group A standings on Tuesday
P W L T Net RR Pts
Sri Lanka 3 2 1 0 2.66 4
Pakistan 2 2 0 0 2.16 4
Australia 2 2 0 0 1.81 4
New Zealand 2 1 1 0 1.51 2
Zimbabwe 2 1 1 0 0.84 2
Canada 2 0 2 0 -3.85 0
Kenya 3 0 3 0 -4.82 0
Next fixtures:
Mar. 3 - Canada v Pakistan, Colombo
Mar. 4 - New Zealand v Zimbabwe, Ahmedabad
Mar. 5 - Sri Lanka v Australia, Colombo
Follow Emirates 24|7 on Google News.