Muralitharan retires with phenomenal records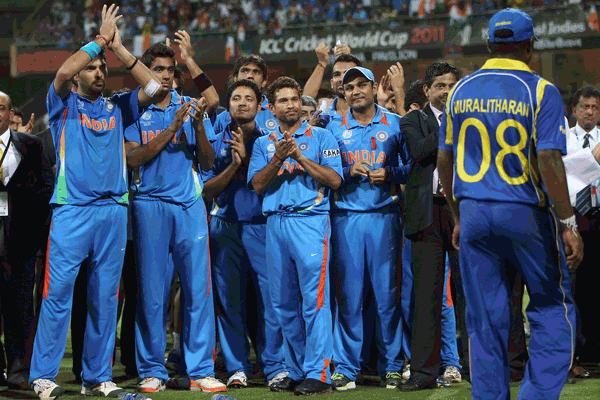 Muttiah Muralitharan embodied the magic and mystery of Sri Lankan cricket with his prodigious powers of spin which took him to heights unlikely to ever be exceeded.
Muralitharan, who retired from all international cricket on Saturday at the age of 38, provided the heartbeat of the Sri Lankan team after his Test debut against Australia in 1992.
He finished his Test career with exactly 800 wickets, capturing his final victim with his final delivery. Amazingly, he also captured a wicket with his final ball on home soil in the World Cup semifinal against New Zealand.
Struggling with a hamstring and a knee injury he did not add to his world one-day record tally of 534 in Saturday's losing final against India. He still conceded only 39 runs from his eight overs and got a generous round of applause from the crowd at the Wankhede Stadium when he stepped up to get his runners-up medal.
In recognition of Muralitharan's unique skills, the Wisden cricket almanac in 2002 ranked him as the leading bowler in history, ahead of his great Australian contemporary Shane Warne.
Don Bradman, whose Test career average of 99.94 remains the most astonishing of all cricket statistics was inevitably the number one batsman.
Muralitharan was a cricketing revolutionary who appeared to at first glance to defy all the conventions of his craft by bowling with a bent arm.
His front-on action culminated in a blur of hand and wrist with the ball revolving and dipping in the air before deviating and spitting from the pitch. His stock delivery whipped in from the off-stump, alternating with a doosra, which few could pick consistently, spinning the other way.
Australian umpire Darrell Hair was convinced Muralitharan threw and no-balled the Sri Lankan seven times in the 1995 Melbourne Test. Ten days later he was no-balled repeatedly by Roy Emerson in a one-day international and in January, 1999, Emerson called him again in Adelaide. The Australian crowds were merciless, shouting "no-ball" whenever Muralitharan took the ball for a fresh spell.
As the controversy raged, the International Cricket Council (ICC) conducted extensive tests and concluded Muralitharan's action "created the optical illusion of throwing".
Muralitharan was filmed in the nets bowling with a brace which prevented his elbow bending and straightening, the technical definition of throwing. He satisfied impartial witnesses that his basic action remained the same and that an elbow deformity meant he bowled with his arm bent.
Further ICC tests revealed that all contemporary bowlers, and therefore by logical extension all their predecessors, flexed their elbows to a greater and lesser extent. A maximum allowance of 15 degrees flexion was agreed for both pace and spin bowlers and Muralitharan was not subsequently no-balled.
Sri Lanka cricket came of age in the mid-1990s when they started to attain with ease run chases that had been previously thought impossible in 50 overs cricket.
At the 1996 World Cup in the Indian sub-continent, opener Sananth Jayasuriya cut and carved the opening bowlers from the delivery, an approach he was to bring with appropriate modifications to test cricket. Muralitharan bamboozled opposing batsmen as Sri Lanka deservedly won the trophy.
Sri Lanka were still regarded as a second division nation and confined to just one Test when they came to England in 1998, to meet a home side fresh from a series win over South Africa,
England scored 445 in their first innings, thought to be a score which at the very least would guarantee a draw, with Muralitharan bowling 59.3 overs to capture seven for 155.
Sri Lanka thought otherwise. Jayasuriya scored a double century in a total of 591 and England collapsed for 181 in their second innings.
Muralitharan captured nine for 65 to set up a comfortable 10 wickets victory. It was to remain his finest performance in a Test and the favourite memory in his career.
Muralitharan's threat was blunted to some extent over the years by the sheer number of overs he was required to bowl while he became less baffling to opposing batsmen as other spinners added the doosra to their armoury.
But the enthusiasm remained undimmed and he retained his dignity in the midst of the throwing furore.
He is also a proud Tamil, who is active in charity work.
"Every cricketer should understand that because of spectators, and supporters only, cricket is in this world," he said last week.
"If they are not going to enjoy the game if nobody is going to turn up to the ground, nobody is watching the TV, there is no cricket.
"So always cricket has to go with the public. When cricketers go under hardships, they help us. So when the public are in hardships, we have to put our hands in and do something for them."
Follow Emirates 24|7 on Google News.