Nation rushes to reward Team India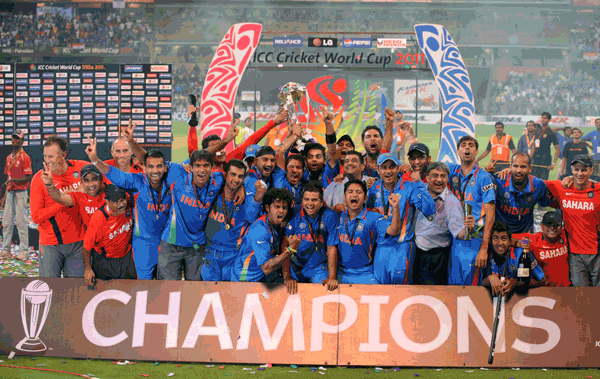 India's World Cup-winning cricket team has been showered with gifts ranging from plots of land and free train tickets to luxury cars and hard cash as the country pays homage to its new heroes.
Keen to hitch a ride on the wave of national pride unleashed by Saturday's victory over Sri Lanka, both the public and private sector have been falling over themselves to garland skipper Mahendra Singh Dhoni and his teammates.
Immediately after the final, the Board of Control for Cricket in India (BCCI) awarded each team member 10 million rupees ($225,000).
A string of state governments - hoping that the national mood might help boost their own standing - followed with offers of free land, medals, honorary doctorates, and more cash.
The chief minister of Uttar Pradesh, Mayawati, came up with a purse of one million rupees each for Suresh Raina and Piyush Chawla, both of whom play for the state side.
"You have done Uttar Pradesh proud," Mayawati said in a statement.
Sheila Dikshit, chief minister of the capital Delhi, trumped that with a prize of 20 million rupees for captain Dhoni, and 10 million rupees each for four Delhi-based team players.
And the southern state of Karnataka said it would provide free plots of land to everyone in the team.
Dhoni, already a constant advertising presence on TV screens, looks set to benefit most from being the first Indian skipper to lift the World Cup since the legendary Kapil Dev in 1983.
Indranil Das Blah, CEO of Kwan sports marketing consultancy, said Dhoni's average rate for an endorsement had shot up from around 50-60 million rupees before the World Cup, to 150 million rupees.
That sort of money would even put him above Bollywood megastar Shahrukh Khan, who charges between 80-100 million rupees.
Dhoni and batting superstar Sachin Tendulkar "will probably be able to command any price they want", Das Blah said. "Although the rest of the team may get a reality check soon enough."
One thing none of them will ever have to do again is stand in line for a train ticket after the Railway Ministry offered each player free first-class travel for two people, for life.
Private companies have also been swift to exploit the branding potential of associating themselves with the victorious team.
South Korean auto manufacturer Hyundai has offered each player a new car, while German car maker Audi has earmarked a luxury model for "man of the tournament" Yuvraj Singh.
Dhoni and three other players hold jobs with national carrier Air India as part of a government quota aimed at supporting talented sportspeople.
On Sunday, Air India said it was "promoting" all four of them.
The shower of gifts, awards and cash prizes has not been without its critics, including Das Blah who argued that some of the attention was misplaced.
"These guys are already rich and successful," he said. "They don't need grants from the government. It's better if the government uses the money to help develop sports education."
The impoverished state of Jharkhand, where Dhoni grew up, has moved in that direction, offering land to fulfil his plans to create a sports academy.
"Dhoni has only to select the site," Sudesh Mahatao, Jharkhand's deputy chief minister, told the Economic Times on Monday.
The Jharkhand government also said it would confer an honorary doctorate on Dhoni, acknowledging his contribution to cricket.
The Indian captain enrolled in an undergraduate course in management in 2008, but has been struggling to find the time to complete the degree.
Follow Emirates 24|7 on Google News.