Pakistan has no fear playing in India, says Afridi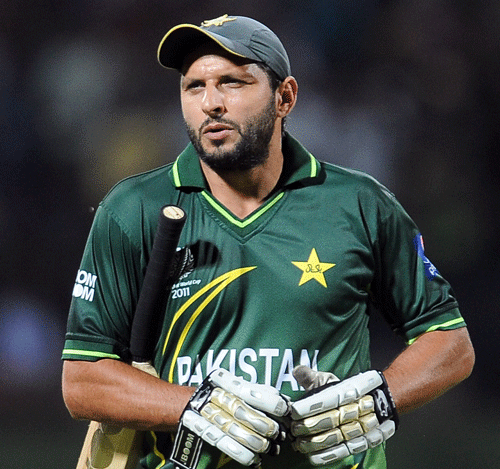 Pakistan captain Shahid Afridi denied on Wednesday that he feared playing a World Cup quarter-final in India, insisting a potential clash between the two neighbours can help ease strained relations.
"I have never said anything along the lines that we don't want to go to India. I never said that," said Afridi, hitting back at media reports that Pakistan wants to avoid playing their last-eight game in India.
"We are here to play the World Cup, so wherever we have to play we will go and we have no fears over going to India," said Afridi of the possibility of a mouth-watering quarter-final against their South Asian rivals at Ahmedabad.
"I think a cricket match has always brought the people of both countries together and has the capacity to improve the relations between the two," said Afridi.
The relationship between the nuclear rivals has been at breaking point since the terrorist attacks on Mumbai in 2008, which New Delhi blamed on extremists based in Pakistan.
Those attacks also forced India to stall bi-lateral cricket series with Pakistan, although both countries played against each other in the Champions Trophy in South Africa in 2009.
Afridi said he and his team-mates have always enjoyed playing cricket in India.
"I have always enjoyed cricket in India, never enjoyed anywhere more than in India, I get maximum enjoyment there," said Afridi, whose first Test century came at Chennai in 1999.
He also hit one-day cricket's fourth fastest century off just 45 balls, against India at Kanpur in 2005.
Pakistan have eight points from their five matches and could top Group A if they beat defending champions Australia in their last match on Saturday.
Afridi says his team fear no opposition.
"The kind of cricket we are playing we fear no venue and no opposition, so India in India, and Australia in the last group match are no problems," said Afridi, who played down threats from extremists groups in India.
"Whatever is the response, we will get to know it when we go there because we will be going there after a long time," said Afridi.
"We have played in India in worse situations," added Afridi, referring to Pakistan's tour in 1999 where Hindu militants dug up the pitch in New Delhi.
"For both teams, the pressure is always there and whoever handles the pressure wins the match. But before that we have an important match against Australia and I think we have the capacity to beat them," said Afridi.
Follow Emirates 24|7 on Google News.