Pakistan may give Shoaib a breather against Canada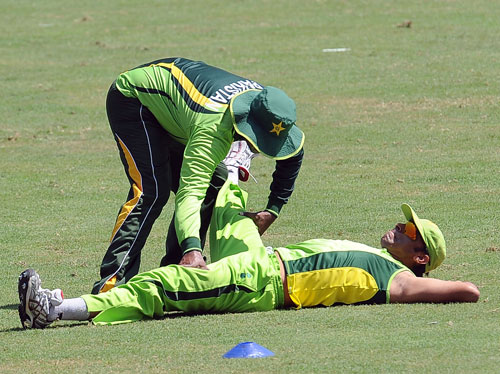 Pakistan are thinking of resting opening fast bowler Shoaib Akhtar for Thursday's Group A World Cup match with Canada, coach Waqar Younis said.
Shoaib has been well disciplined so far in his spells in the first two matches of the World Cup and helped to record an 11-run win against co-hosts Sri Lanka by taking the wicket of in-form Mahela Jayawardene in the early stages.
"So far, we have not decided the team. We are thinking about it but I can't give a confirmed answer until tomorrow," Waqar told a pre-match news conference in Colombo when asked whether the team would rest Shoaib, the 'Rawalpindi Express'.
"Then again you want to get the rhythm going, momentum going. So you don't want to give him too long a rest because it's hot and you need to get used to that. So I am not sure about that."
Joined favourites
Pakistan have joined the favourites after beating Sri Lanka on Saturday but a shock first-round exit in the last World Cup after defeat by Ireland has left them forever guarded against complacency against the so-called minor teams like Canada.
"We have seen in the past World Cups, teams have been taken easy and then you lose matches and that costs you a hell of a lot of time and things," the former Pakistan fast bowler said.
Pakistan, the 1992 winners, have not qualified for the second round of the World Cup since they reached the final in 1999 won by Australia.
So far at this year's event, their fielding has been Waqar's biggest headache.
"Overall when you talk about bowling, I think we were spot on but in fielding we have had a few lapses. We dropped a couple of catches, one stumping, that's a little bit of a worrying point," he said.
"I think we have still got to bring that culture that fielding is also the most important part in the game. We are getting there but there's still a long way to go."
Younis said he feels good that the team, plagued by a corruption scandal before the World Cup, has been free from any controversy here.
"It feels great," he said. "I think the entire tournament is pretty clean as far as I am concerned."
Canada have lost both their opening two games heavily to Sri Lanka and Zimbabwe.
Follow Emirates 24|7 on Google News.