Pakistan not overawed by Sri Lanka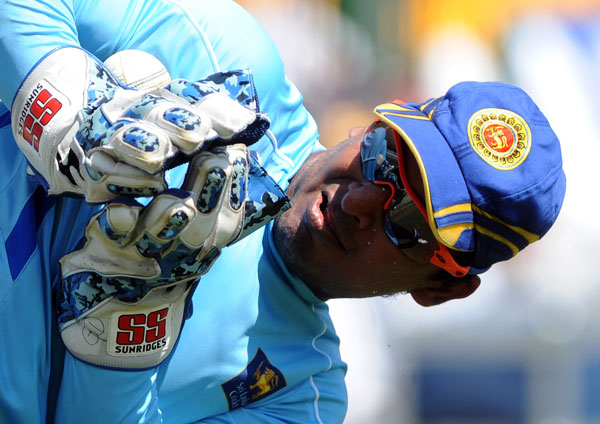 Pakistan know their World Cup match against Sri Lanka here on Saturday is one of their most crucial in Group A, but will not be overawed by the home team's bowlers or the partisan fans.
A sell-out crowd of 35,000 will be on hand to see world-record spinner Muttiah Muralitharan and slingy seamer Lasith Malinga attempt to put the brakes on Shahid Afridi's Pakistan team.
Sri Lanka, who were champions in 1996, and Pakistan, the 1992 winners, enjoyed flying starts with convincing victories against minnows Canada and Kenya, and are primed for their first big match.
Afridi said his team was ready for the challenge.
"We know the importance of the match and I am confident that we are up to the Sri Lankan challenge, whether it's Malinga or Muralitharan," said Afridi.
Muralitharan, who has a world record 521 wickets in 342 one-day internationals, has a tally of 95 against Pakistan in 64 matches, and is even more dangerous in home conditions.
"In Sri Lankan conditions and pitches, he (Muralitharan) is always very dangerous and he could probably turn the ball on a marble. He has so much experience, knows conditions well and that's why he is the best," said Afridi.
Afridi said Malinga, renowned for his slingy action, would find it tough after missing the Canada match due to a back strain.
"Malinga is a very good bowler but he is coming back from an injury, so let's see how strong he is and how much he can adjust to the conditions," said Afridi.
Malinga didn't bowl during practice on the advice of physio Tommy Simsek but team management said the fast bowler will be fit for the match.
Afridi hoped the game would be entertaining in a World Cup that desperately needs a blockbuster clash.
"It will be a good game. If we bowl well, bat well and go in with positive body language, we will handle every pressure."
Pakistan have never lost a World Cup match against Sri Lanka in six previous attempts, but they all took place before Sri Lanka became one of the top sides in the world.
Pakistan beat Sri Lanka in the final to win the second edition of World T20 in 2009, but Kumar Sangakkara's side defeated them in last year's Asian Cup and in the last two one-day series -- away (in Pakistan) and at home since 2009.
Pakistan will look to improve on their starts both in batting and bowling.
"If the openers give us a good platform then we have in-form batsmen like Misbah-ul-Haq, Kamran Akmal, Younis Khan and Umar Akmal," said Afridi, of the quartet who all hit half-centuries during their 205-run win against Kenya.
Sri Lanka have Mahela Jayawardene, Sangakkara, Tillakaratne Dilshan and Upul Tharanga in good form with the bat.
Sangakkara said his team will keep the basics right.
"The biggest fear at home is losing. The worst thing is that you are nervous and afraid to go out and do what you know what you can do, so it's the biggest thing we have to be careful of," said Sangakkara.
"If you play as well as you know how to play you obviously make it that much harder for the opposition to beat you," said Sangakkara, whose team has lost the last two matches against Pakistan at Premadasa stadium.
PCB bans Yasir Hameed
Pakistan cricket authorities on Friday banned and fined batsman Yasir Hameed for accusing his team-mates of match-fixing and spot-fixing after last year's controversial Lord's Test against England.
Pakistan Cricket Board (PCB) spokesman Nadeem Sawar said that Hameed had been banned from first-class competition and fined 300,000 rupees (about 3,500 US dollars) "for his spot-fixing allegations against some national players in a newspaper interview last year".
He did not specify the length of the ban.
Two days after three Pakistani players -- Salman Butt, Mohammad Asif and Mohammad Aamer -- were accused of spot-fixing in the Lord's Test by British tabloid the News of the World, Hameed told an undercover reporter that his team-mates had been involved in fixing for years.
The three players received bans of between five and 10 years from the International Cricket Council's anti-corruption tribunal earlier this month.
They also face criminal prosecution in Britain and are due to appear in a London court on March 17.
Hameed, 32, has played 25 Tests and 56 one-day matches for Pakistan in a career that began in 2003, but has not been selected since the Lord's Test.
He later claimed that he was trapped into the interview, which was recorded secretly, and also lodged a complaint against the newspaper in Britain.
Sri Lanka v Pakistan head-to-head
Matches: 120
Sri Lanka wins: 46
Pakistan wins: 70
No result/Tied: 4
First meeting in World Cup: June 14, 1975, Nottingham - Pakistan won by 192 runs
Last meeting in World Cup: June 15, 2010, Dambulla - Sri Lanka won by 16 runs
Follow Emirates 24|7 on Google News.