Sangakkara backs Mathews as his successor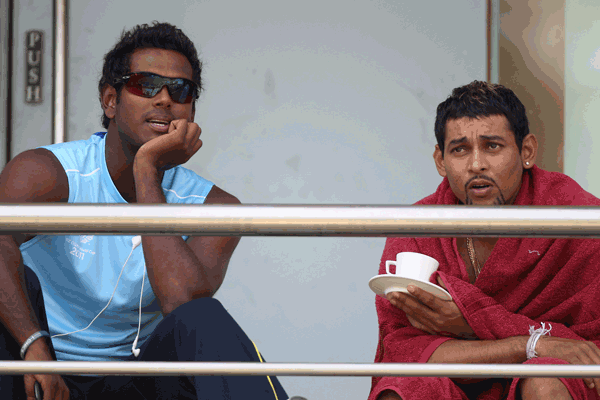 Kumar Sangakkara backed the appointment of talented young all-rounder Angelo Mathews as his successor instead of the experienced Tillakaratne Dilshan if Sri Lanka was grooming a national captain for the next World Cup.
Sangakkara felt that the Sri Lankan board should choose a long-term successor and not appoint someone in a caretaker role.
"You have to look long term. Not just what is good for now... If you want to go for Dilshan, give him the confidence for a long term," Sangakkara told ESPNcricinfo in his first major interview since resigning as captain after Sri Lanka lost the World Cup final to India.
Sangakkara, who leads Deccan Chargers in the Indian Premier League, believed both Dilshan and Mathews were ready for captaincy but said they should be given longer runs if they are to be successful.
"Don't give the captaincy to Dilshan and say, 'You are just going to be captain for a year and half'. It's not going to be good for him, for he is going to think, 'My days are numbered anyway'. And so it won't be good for the team," he said.
Sangakkara cast doubts on whether dashing opening batsman Dilshan would be still around when the next World Cup is played in four years' time.
"Both Dilshan and Angie (Angelo) are suitable. If they think Angie is too young, then Dilshan will do a good job because he has these little touches for success. Anything he does on the field, he has this little knack. I don't know whether he will be the long-term candidate with his age, but if he keeps himself fit he can easily play the next World Cup," he said.
However, he backed 23 year-old Mathews to succeed if he was given the role and selectors kept faith in him without overburdening him with the weight of a nation's expectations. Mathews did not feature in the World Cup final after tearing his hamstring injury in the semifinal which ruled him out for eight weeks.
"Or they can take the plunge with Angelo. That is where the selectors have to really make a call. Pressure will have to be shared, if they make a call and if things don't go well in the first or second year, they will have to be strong that they made a good decision," was his advice to the new selection committee led by former Sri Lanka skipper Duleep Mendis.
"They will have to put everything in possible to make the captain has everything to do a good job. If it doesn't go well even after that, may be you can re-evaluate. But if the team itself doesn't expect miracles, but expect steady intelligent guy who does things in his own way and good for the team then this could work. To expect too much right away will be a real danger," he added.
On his own decision to resign, Sangakkara admitted that it was partly selfish but said that the majority of the decision was based on what he felt was good for Sri Lanka.
"No matter how much I try to deny it, there is a lot of 'me' in that decision. I have also done what is best for me. But having said that there is also a large part of the decision of what I think is the way forward for the team. The way forward is not as difficult as people make it out to be. Players come players go and so do captains. Yet team progress. That is the natural progression," he said.
Although he was tempted to continue, he had no regrets about stepping down though he made himself available to lead Sri Lanka in the Test tours of England and Australia if required.
"Yes, in this decision there is some selfish part but I also think it's the right decision to make ... power is funny thing especially in subcontinent. I would rather be in a position where I am not tempted to do another year to take that decision that I should have. I am pretty clear in my conscience," he said.
Sangakkara displayed his diplomatic skills by coming to the defence of the much maligned administrators though he urged them to show mutual respect to players and not to cross the line.
"You can have your administrative scuffles, what not, but when it should come to playing cricket, players should not get involved with administration unless it's something that directly affects their performance. And administrators should never cross that line. That way mutual respect will be there. If they can maintain that familiarity and at the same time the professional distance it would be great. It can go wrong. It has gone wrong at times," he said.
Sangakkara said he took the decision three months before the World Cup and that his erstwhile deputy Mahela Jayawardena supported it.
"I am not resigning because I am unhappy. I am not resigning because I can't do this anymore. No. I can do this for longer but I don't think it's the right thing for me or for the team. Another World Cup is coming up in four years. We think four years is a long time but suddenly you will realise is two years is already gone and the system hasn't changed. A new guy is appointed with hardly any time to lead the team," he explained.
Sangakkara said that the decisions to leave out icons like Sanath Jayasuriya and Chaminda Vaas were the most difficult ones he took as a captain.
"It was a very delicate situation because Sanath and Vaasy are legends. At the end of the day you need to be 100% sure you are making the right decision. Personal likes and dislikes have nothing to do with what's best for the team. We are a family, but you have arguments, your problems - that's the way it should be, else nothing constructive is going to work."
Age wasn't the criterion to drop these players, it was purely about performance and the team combinations, said Sangakkara.
"Sanath and Vaasy missed selection (for the World Cup) by a whisker. It was unbiased: It's not about age. If someone is performing and contributing to the value of the dressing room, nothing else matters. It was a never a case of, oh he is old."
Vaas was called in as cover for the injured Mathews ahead of the final but was not selected.
Follow Emirates 24|7 on Google News.