Sangakkara quits as Lanka captain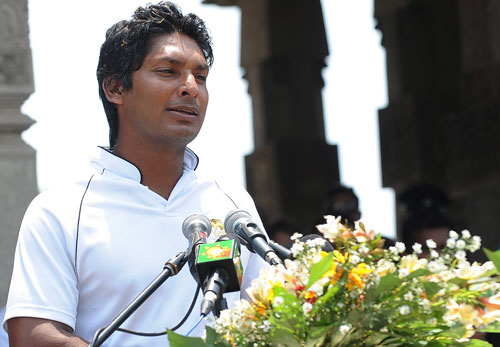 Kumar Sangakkara may have quit as captain of the Sri Lanka team after his team emerged second best at the World Cup to India but he will lead Deccan Chargers in the Indian Premier League (IPL) which begins on Friday.
Sangakkara, 33, said he made the decision prior to the World Cup jointly hosted by Sri Lanka, India and Bangladesh.
But his announcement as captain of the Hyderabad side in the fourth edition of the lucrative IPL came on Monday, the day he met Sri Lankan cricket selectors of his impending decision to give up the national captaincy.
"I met with the selectors on Monday and I explained my reasons for my decision and I assured them of my fullest support in helping our new captain settle into the leadership," he said in a statement on the Sri Lanka team website (www.srilankacricket.lk) on Tuesday.
"It was a planned departure made known to selectors and the governing body way back as January," Sangakkara told reporters in Colombo. "I will step down as one-day and Twenty20 captain immediately."
The 33-year-old said that he will stay on as Test captain for an interim period for the forthcoming series with England, and possibly Australia, if the selectors believe this would help the new captain and aid the transition.
"After careful consideration I have concluded that it is in the best long-term interests of the team that I step down now as national captain so that a new leader can be properly groomed for the 2015 World Cup," he said.
"This was a decision I made prior to the World Cup. I shared it first with my closest team mates Muttiah Muralitharan and Mahela Jayawardena. I will be 37 by the next World Cup and I cannot therefore be sure of my place in the team.
"It is better that Sri Lanka is led now by a player who will be at the peak of their career during that tournament."
Sangakkara, a fluent left-hand batsman and wicket-keeper, said he had no plans yet to retire as a player as he still aims to reach 10,000 runs both in Tests and one-days.
Sangakkara has scored 8,244 runs in 94 Tests at an average of 57.25 with 24 centuries. He also has 9,164 runs in 291 one-dayers with 11 hundreds.
He tipped allrounders Thilakaratne Dilshan or Angelo Mathews as the likely combination to succeed him as captain for all formats of the game.
He also said Upul Tharanga and Lasith Malinga "were ripe" to take up bigger responsibilities in one-days or T20.
"We need fresh ideas, new blood to come in and take things forward. Proper planning is needed to nurture talent to win future World Cups. I am happy to work with the new captain."
Sangakkara said he had enjoyed his two-year stint as captain since taking over from Jayawardene in March, 2009.
"It has been a true honour and a great privilege to serve my country as captain during the past two years," he said, adding that losing the World Cup final to India was the "lowest point" in his career.
"It was a great journey to get there. It was a fantastic effort by everybody. But, yes, I was bitterly disappointed."
He thanked his team-mates and coaching staff for their hard work and support.
Sri Lanka's coach Trevor Bayliss, also leaves the side this week, and Sangakkara said a new coach, new skipper and a deputy, would be ideal to build the team for the future.
There was no immediate comment from Sri Lanka Cricket or the national selectors on Sangakkara's decision.
However, Sangakkara said he shared his decision with Sri Lankan President Mahinda Rajapakse on Monday. "The president took it well. He backed me. He gave his blessings."
The appointment of Sangakkara as Chargers' skipper was made at a promotional event of the franchisee, the Indian media reported.
Australian cricketer Cameron White will be Sangakkara's deputy in the 10-team Twenty20 extravaganza.
Former Australia cricketer Adam Gilchrist had led Deccan Chargers to title win in 2009 in South Africa but will lead Kings XI Punjab this time.
Sangakkara is the second Sri Lankan player to lead a franchise in this tournament with veteran batsman Mahela Jayawardena being captain of debutants Kochi Tuskers team from Kerala.
Meanwhile,retired New Zealand captain Daniel Vettori was also on Tuesday named as skipper of Royal Challengers Bangalore (RCB) which also has dashing Sri Lanka opener Tillakaratne Dilshan.
Vettori, who led New Zealand to a record sixth semifinal appearance in the just-concluded World Cup, will replace spin legend Anil Kumble who captained the team in the last two seasons of the Twenty20 league.
Kumble will also be a part of the Bangalore franchise as a chief mentor.
"We are very excited for the upcoming season. Vettori is a highly experienced and respected leader and we hope to ride to the pinnacle of success this IPL under his leadership," RCB chairman Vijay Mallya said in a statement.
"It is wonderful that we have somebody of his (Vettori) stature to lead our team this year. He is the ideal person to fill Anil's shoes," added Director of Royal Challengers Sports Pvt. Ltd, Sidhartha Mallya.
Vettori represented Delhi Daredevils in the first three editions of IPL and his predecessor Kumble hailed the left-arm spinner's appointment to the leadership position.
"Vettori is a hugely respected professional not only within his team but amongst his international peers as well. His unique ability to get players to perform as a unit and deliver more than just the sum of their parts, as he has done time and again with New Zealand, will be a big asset to any team," said the former India skipper.
RCB coach Ray Jennings was of the view that Vettori's experience and skill on the spin-friendly Indian pitches will be of great help for the team in the upcoming tournament.
"Vettori is also probably the best spinner in the world at the moment and brings in tremendous skills that will be extremely useful on the Indian pitches," Jennings insisted.
(with inputs from Agencies)
Lankan fans react:
matchfixing on table
Rajapakse offers explanation
for loss: 'We gave up joy for India'
Follow Emirates 24|7 on Google News.