Sri Lanka press slams selectors for defeat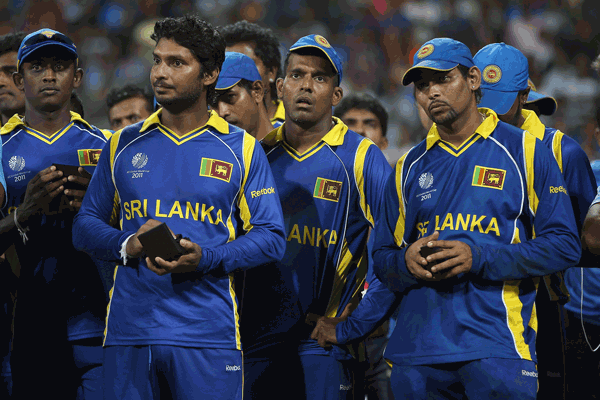 Sri Lanka's defeated cricket team returned home on Sunday to calls from the state-run media demanding a probe into "blunders right from the start".
"Who picked the final XI of the Sri Lanka team for the World Cup final against India?" the Sunday Observer asked.
It questioned the dropping of spinner Ajantha Mendis in favour of Suraj Randiv who failed to impress after only joining the squad as an injury replacement on Friday.
The Observer also questioned the wisdom of playing an injured Muttiah Muralitharan, the ace spinner, who was retiring after Saturday's game.
"Was it advisable playing a half-fit Muralitharan?" the state-run paper said.
"Winning the mega-final is much more important than giving a farewell tribute to even a great cricketer of Muralitharan's magnitude."
Religious leaders who welcomed Kumar Sangakkara's team at the Bandaranaike International airport said they were disappointed with the loss, but urged dejected cricket lovers to spare the national team.
Sangakkara defended the team selection and said he had fielded the best possible players and insisted they had "played well".
"The changes we made were good," Sangakkara told reporters at the airport. "Unfortunately, we did not do well enough in bowling and fielding."
"We were unable to maintain pressure on India after their first two wickets," the skipper said. "India played very well and that is why we lost."
The privately-run Sunday Times of Colombo said fans were still trying to come to terms with the defeat, but said the World Cup loss should be used to clean up the administration of the game.
"Cricket has been run by successive interim committees, most reeking with corruption, nepotism, political interference and mismanagement," the Times said urging a clean-up of the governing body of the game in Sri Lanka.
The Lakbima News newspaper front-paged a picture Tillakaratne Dilshan and Lasith Malinga celebrating the dismissal of Indian opener Virender Sehwag.
"Done half the job!," was its headline.
The Nation newspaper was more charitable in its front-page headline: "Lost, but not shamed!"
The team was originally due to be driven in an open motorcade, but instead were ferried from the airport in a coach with tinted windows.
Only a few people turned up to greet them along the way despite repeated appeals for support over state television.
Local cricket commentator Hemantha Devapriya blamed the defeat on bad fielding.
"Sri Lanka lost because of poor fielding," Devapriya said on Sri Lanka's national television.
Another sports analyst, Palitha Perera, consoled the deflated Sri Lankans saying that the World Cup still remained in Asia.
"We must be happy that the World Cup was lifted by a fellow South Asian nation," Perera said. "We have only another four years to wait."
Follow Emirates 24|7 on Google News.