Sri Lanka thrash England by 10 wickets to reach semis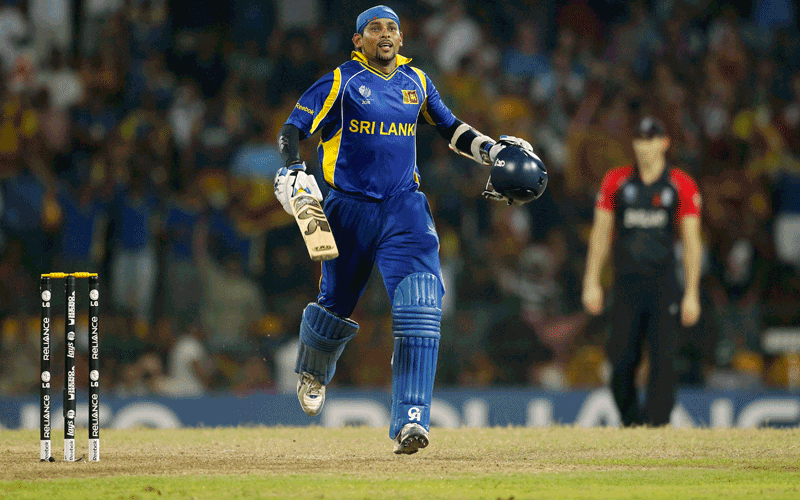 Openers Tillakaratne Dilshan and Upul Tharanga made merry against a listless England attack and powered Sri Lanka to a 10-wicket victory in the World Cup quarter-finals on Saturday.
Dishan (108 not out) and Tharanga (102 not out) both notched up their second hundreds in the tournament and with it their second double hundred stand in the showpiece event.
The duo made the 230-run target look ridiculously easy as they took Sri Lanka home with all their wickets intact and 10.3 overs to spare.
The Islanders will now clash with New Zealand in the last four match on Tuesday at the same venue for a place in the April 2 final at Mumbai's Wankhede Stadium.
England innings
A. Strauss b Dilshan 5
I. Bell c Samaraweera b Mathews 25
J. Trott c Jayawardene Muralitharan 86
R. Bopara lbw b Muralitharan 31
E. Morgan c Mathews b Malinga 50
G. Swann lbw b Mendis 0
M. Prior not out 22
L. Wright not out 1
Extras: (lb-3, w-6) 9
Total: (six wickets, 50 overs) 229
Did not bat: T. Bresnan, J. Tredwell, C. Tremlett
Fall of wickets: 1-29 2-31 3-95 4-186 5-186 6-212
Bowling: Malinga 10-0-46-1 (2w), Dilshan 6-1-25-1 (1w),
Mathews 5-0-20-1, Herath 10-1-47-0, Mendis 10-0-34-1,
Muralitharan 9-0-54-2 (1w)

Sri Lanka innings
U. Tharanganot out 102
T. Dilshan not out 108
Extras: (b-9, lb-6, w-6) 21
Total: (for no wicket, 39.3 overs) 231
Did not bat: K. Sangakkara, M. Jayawardene, T. Samaraweera,
C. Silva, A. Mathews, R. Herath, L. Malinga, A. Mendis, M.
Muralitharan
Bowling: Bresnan 8-1-40-0, Swann 9-0-61-0 (2w), Tremlett
7.3-0-38-0 (1w), Bopara 5-1-22-0, Tredwell 6-0-38-0, Wright
4-0-17-0 (1w)
Result: Sri Lanka won by 10 wickets
England won the toss and elected to bat
Follow Emirates 24|7 on Google News.