Steyn, Zaheer aim for fast and furious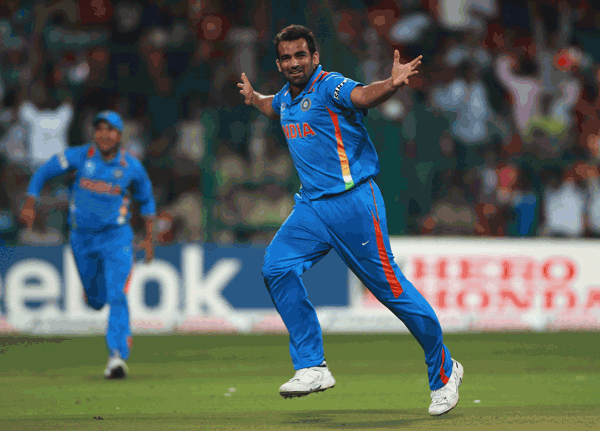 South African paceman Dale Steyn and his Indian counterpart Zaheer Khan will be keen to spoil the batsmen's party when their teams clash in a blockbuster World Cup match on Saturday.
The duo have already left a mark with their intelligent variations in previous matches, which were dominated by batsmen and spinners on low, slow sub-continental tracks.
The pitch at the Vidarbha Cricket Association's Jamtha Stadium is expected to favour batsmen again, but Steyn and Zaheer have the ability to strike at crucial stages.
India have virtually qualified for the quarter-finals with seven points from four matches, but are still struggling to find the right bowling combination.
Zaheer is an exception as he has been taking wickets in every match to put the opposition on the backfoot.
He has so far taken 11 wickets in four matches to emerge his team's leading bowler.
His ability to reverse-swing the ball has taken even quality batsmen by surprise. He dismissed well-set skipper Andrew Strauss and Ian Bell to sustain his team's hopes against England before the match ended in a tie in Bangalore.
India's bowling woes can be gauged from the fact they required part-time spinner Yuvraj Singh to restrict non-Test-playing nation Ireland to a modest total of 207 in Bangalore.
South Africa have no such problems as their bowlers impressed in previous matches, with Steyn keeping pressure from the one end and spinners taking wickets from the other.
Steyn has bagged five wickets in three matches but his form augurs well for South Africa ahead of bigger clashes as he has proved that he can test the best with his clever changes in pace.
"You've got to be street smart I suppose when you bowl in India. You can't bowl the same pace at the same place as the guys will work you out," said Steyn, who has so far taken 74 wickets in 51 one-day internationals.
Steyn is familiar with the Indian conditions, having grabbed 10 wickets at this venue to bowl his side to an innings victory over the hosts in the opening Test last year.
Pace, backed by controlled swing, makes the South African one of the most feared fast bowlers in the world.
Steyn and Zaheer will be required to play key roles as both the teams boast strong batting line-ups capable of dominating any bowling attack.
The South African batsmen have floundered only once in the tournament when they failed to chase a modest 172-run target in their previous match against England in Chennai.
But the conditions here will be more batsmen-friendly, meaning only quality bowlers like Steyn and Zaheer can hope for achieving success.
That top fast bowlers can deliver at this venue was shown by Australian trio of Mitchell Johnson, Shaun Tait and Brett Lee who dismissed New Zealand for 206 to set up their side's easy victory.
Follow Emirates 24|7 on Google News.