Varun, Karthik in record opening stand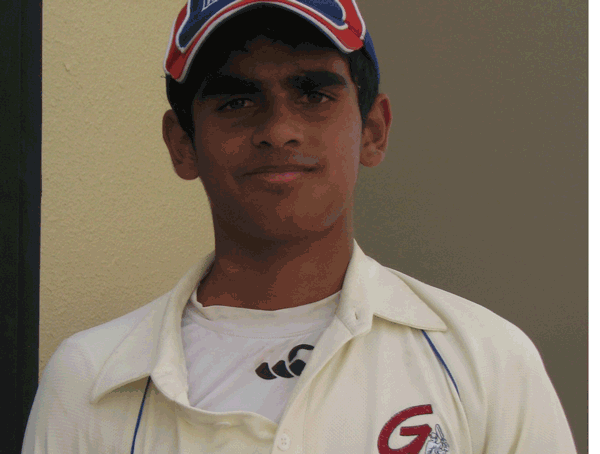 Varun Totadri and Karthik Dudeja of G Force Academy set an unbeaten record opening wicket partnership of 257 runs in 20 overs in the Cricket For Care Under-15 Inter-Academy tournament conducted by the Dubai Cricket Council at The Sevens cricket grounds with support from Shyam Bhatia.
Varun and Karthik totally dominated the Sharjah Cricket Academy attack and scored at will and none of the eight bowlers tried by Sharjah could make any impact on these two fine batsmen.
Varun scored a magnificient 147 off just 72 balls in which he hit a staggering 26 fours collecting 126 runs from boundaries.
Karthik also played a gem of a knock scoring 90 runs in 48 balls including 13 fours and a six as both youngsters showed great application and maturity during their record partnership.
Sharjah Academy faced with a mammoth target were bowled out for 157 runs even despite fine knocks from Dhruva Praveen (39), Majid Khan (37) and Shahjahan Khan (34).
Young Ahsan Ali of Emirates Cricket Training- Sharjah was another batsman to dazzle with a superb knock of 113 runs with the help of 15 boundaries to steer his team to 219 against Max Way cricket Academy who were bowled out for 168 runs to lose by 51 runs.
Abdullah Khan of Young Talent Cricket Academy was unfortunate to miss his century but made short work of the target of 172 runs set by MCC Zayed Academy by stroking a brisk 96 off 58 balls with the help of 18 boundaries.
Desert Cubs Cricket Academy continued their dominance with a 149-run win over Unique Cricket Training.
Renaldi Dias made 77 off 48 balls with eight fours while Nelukshan de Silva hit a rapid 65 in 34 balls with 11 boundaries. Kulith Rabel then smashed a whirlwind 85 in 38 balls.
Unique Cricket Training Centre got a good start as the top order led by Ahmed Jamil did well but the innings crumbled against the guiles of Atharva kavi and Shaun Silva who picked up two wickets each.
Brief scores:
Desert Cubs Cricket Academy beat Unique Cricket Training by 149 runs: Desert Cubs Cricket Academy 281 for 3 (Renaldi Dias 77, Nelukshan De Silva 65, Kulith Rabel 85, Zafri Zafardeen 31 not out, Faraz Jamil 1-14) Unique Cricket Training 132 for 7 (Ahmad Jamil 35, Yash Harathi 41, Chintan Dangaria 27, Nelukshan De Silva 2-18, Shaun Silva 2-6)
Man of the Match: Kulith Rabel of Desert Cubs Cricket Academy
Young Talent Cricket Academy beat Zayed Cricket Academy 9 wickets: Zayed Cricket Academy 172 for 5 (Mohammed Riyan 45 not out, Liam Karlsson 2-27, Ravi Raj 2-18) Young Talent Cricket Academy 176 for 1 (Abdullah Khan 96, Mohammed Salman 43 not out, Ahmod Nadeem 1-27)
Man of the Match: Abdullah Khan of Young Talent Cricket Academy
ECT Sharjah beat Max Way Cricket Academy by 51 runs: ECT Sharjah 219 for 2 (Ahsan Ali 113 not out, Hamza Ali 32 not out, Yash Shodan 1-17) Max Way Cricket 168 for 7 (Achuth Baiju 27, Ahsan Abbas 1-13, Tabis Naseem 1-18)
Man of the Match: Ahsan Ali of ECT Sharjah
G Force Cricket Academy beat Sharjah Cricket Academy by 100 runs: G Force Cricket Academy 257 for no loss (Varun Totadri 147 not out, Karthik Dudeja 90 not out) Sharjah Cricket Academy 157 for 2 (Dhruva Praveen 39, Majid Khan 37, Shajahan Khan 34 not out, Karthik Dudeja 1-21)
Man of the Match: Varun Totadri of G Force Cricket Academy.
Follow Emirates 24|7 on Google News.