Vaughan tips Srauss to quit one-dayers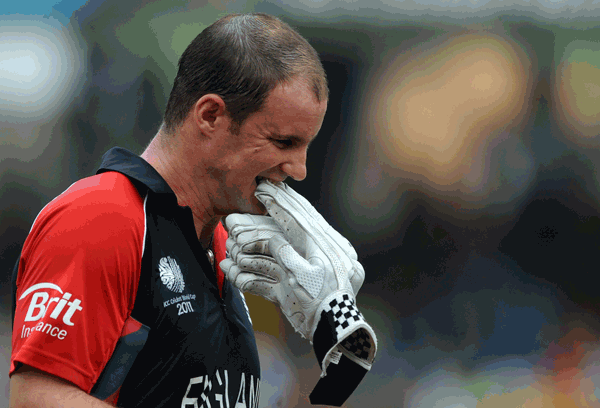 Former England captain Michael Vaughan on Sunday tipped current skipper Andrew Strauss to quit one-day cricket following the team's World Cup quarter-final defeat.
England's rollercoaster tournament ended on Saturday in a 10-wicket rout at the hands of Sri Lanka in Colombo, with Strauss insisting it was unrealistic to expect success when players are not given a rest.
"Going forward I think we will see the last of Strauss wearing a one-day shirt," Vaughan told reporters in Colombo.
He said England's gruelling schedule was partly to blame for the team's World Cup defeats to Bangladesh and Ireland.
After winning the Ashes, England played a seven-match one-day international series in Australia. That was followed by a brief break at home before the World Cup campaign started in the first week of February.
"With a long schedule, Strauss's World Cup performance was miraculous. He did well in the Ashes. He got the runs. The guy has done brilliantly over the last 18 months," Vaughan said.
He said Strauss' position is likely to come under scrutiny in the May review of England's winter performances.
Strauss has not announced his decision yet, but Vaughan, who captained England in 60 one-day games between 2003 and 2007, during which he was also Test captain, believes Strauss will make the decision to step down.
"He (Strauss) will have a lot to think about when he is on the plane tomorrow (Monday). He's a mature bloke, a mature captain," said 36-year-old Vaughan, who retired in 2009.
"Andrew has been an outstanding Test captain, winning the Ashes for us and his one-day batting has improved a lot over the last couple of months.
"But I think Andrew also understands that when he arrives home and things settle down, he needs to decide what is best for the England team and the England set-up," said Vaughan on the sidelines of a charity event.
Vaughan told the BBC early Sunday that Strauss's young family could also be an important factor as he decides whether to quit the shorter version of the game.
"You are away for so long. He has a lovely young family and it comes to a stage when he needs to ask himself if he needs to be doing that consistently and will he be at the next World Cup in four year's time. You have to say he probably won't be," Vaughan said.
"He may carry on into the summer for continuity into the India series. But I have a sneaky suspicion that (the Sri Lanka quarter-final) was his last game."
Follow Emirates 24|7 on Google News.