We'd risk half-fit Murali, says Sangakkara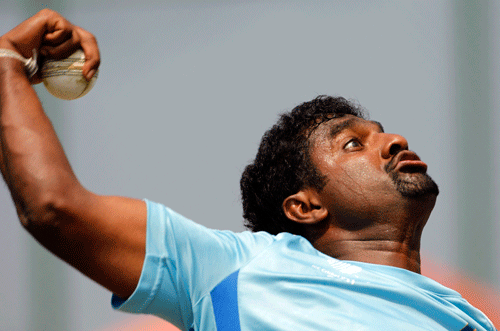 Sri Lanka skipper Kumar Sangakkara has admitted that even a half-fit Muttiah Muralitharan could be risked in Tuesday's World Cup semi-final against New Zealand.
The world record breaking off-spinner, who will retire after the World Cup, has been carrying a hamstring injury and also picked up a knee problem in the quarter-final win over England.
But the 38-year-old is so crucial to Sri Lanka, that Sangakkara could be tempted to make the gamble.
"Murali and everyone is trying to get him fit enough to play, it's no use thinking about the final and saving him for other games," said Sangakkara of Muralitharan who took 4-25 in the group stage win over New Zealand.
Sangakkara said the spinner, who played in the 1996 World Cup winning team, will be crucial to his team's hopes of making the April 2 final in Mumbai.
"This is the crunch game and if he can play tomorrow that'll be great for us, but if that doesn't work out for us, we've got enough cover to make sure that we are still a solid winning side," said Sangakkara.
Paceman Nuwan Kulasekara, who sat out in the quarter-final, would fill in if Muralitharan fails to make it.
"There are two different injuries. He has knocked his knee and he's just aggravated a quadricep muscle. We'll just have to monitor how he goes and just hope he gets fit," said the Sri Lanka captain.
Sangakkara hoped his players fulfill the expectations of the home fans at the R. Premadasa stadium.
"The expectations are always there, that's not something that we can control," he said.
"What we really want to do is to make sure that when we go out, stay in the moment and make sure we concentrate on what we have to do and make sure our focus is 100 per cent."
Sangakkara also hailed opposite number Daniel Vettori whose tactical approach was praised as crucial in the shock quarter-final win over South Africa.
"Dan's a great captain," said Sangakkara.
"He's been around the scene for such a long time, he understands these conditions so they are going to be a formidable side and we are not expecting anything to come easy to us."
New Zealand will be playing in a sixth semi-final, but have yet to get to the final.
Sangakkara said New Zealand will play hard to achieve that rare honour.
"All the players in New Zealand have done very well," said Sangakkara of their rivals who they beat by 112 runs in the group stage.
"They bat very deep, they have got quality bowling and they are an excellent fielding side. They are not an opposition anyone will take lightly, for us it's the same, we are going to expect the stiffest competition come Tuesday."
Follow Emirates 24|7 on Google News.