Fifa expects World Cup to break TV records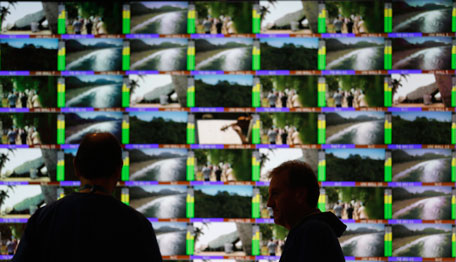 The World Cup, which kicks off in Brazil this month, is set for a record global television audience thanks to new technology and fan-friendly scheduling, Fifa's television director Niclas Ericson told Reuters on Monday.

The quadrennial tournament is the world's biggest sporting event and some matches, including the final in Rio de Janeiro on July 13, will be broadcast in ultra high definition for the first time.

"We have some reasons to say the audience will increase. We worked very hard on the match schedule and the times we have now, we think will be very good for the football fan," Ericson said by telephone from Rio.

"We think we have very good kick off times for Africa, the Middle East and Europe and will continue to grow the audience there. And as the World Cup is in the Americas, we'll have even better figures from there than ever before," he added.

"Asia has grown very fast in term of viewers and rights fees and I believe that even on paper before the event it looks extremely good to break the records we have."

Ericson would not speculate on numbers, saying Fifa still struggled to audit figures in certain parts of the world, but for the first time Fifa had a rights contract in place with every country or territory and the interest was enormous.

"We know that an opening match featuring Brazil is going to be record-breaking across the world because it is Brazil," he added.

Fifa research, which took a year to produce after the 2010 World Cup in South Africa, said 909.6 million television viewers tuned in to at least one minute of the 2010 final at home.

Some 619.7 million people also watched at least 20 consecutive minutes of Spain's 1-0 extra-time win over the Netherlands in Johannesburg.

More than 3.2 billion people watched live coverage of the 2010 tournament for a minimum of one minute. The average official rating was 188.4 million for each match.

The figures claimed an average increase of between three to eight percent from the 2006 finals in Germany.

By comparison, an estimated global audience of 900 million viewers watched the opening ceremony of the London 2012 Olympics.

ENHANCED PICTURE

Broadcasts from Brazil will feature 34 cameras per match with around 3,000 staff involved in the television production. They hail from 48 different countries.

"We want to be in the forefront of how to produce and present football. We also have demands from our clients that we have to deliver a very good product," said Ericson.

"Our media rights are precious for both the client and ourselves because it is the largest revenue source for us and an important media right for broadcasters who are profiling themselves by screening the World Cup."

Fifa said in March that income from television rights and marketing deals ahead of the World Cup had helped drive up its revenues to $1.386 billion.

Protests in Brazil against the cost of hosting the tournament, and corruption allegations surrounding the awarding of the 2022 World Cup to Qatar, have not deterred sponsors eager to be associated with the event.

Three matches in Brazil will be shot and broadcast in 4K and nine in 8K resolution as part of tests by broadcasters, notably Japan's NHK.

The cinema industry standard, also known as ultra high definition, offers a greatly enhanced picture and is expected to become a television standard by 2017.

"We can use the World Cup to drive advances in television technology because with a large platform of broadcasters, anything we want to try, we immediately have reasonable economics around it," Ericson explained.

"We did 3D in South Africa and quickly had a number of broadcasters around the world working with us and participating in the project. For this World Cup we are working with 4K and 8K, and immediately we have broadcasters who say they want to be part of it."

Broadcasters will be offered the chance to deliver expanded content services, seeking to satisfy a growing demand from viewers for a 'second screen' experience.

Apps and web players can be customised by broadcasters and offered to their viewers, who increasingly watch live broadcasts of the games on smartphones or tablets.

"We produce the matches with a lot of cameras, we produce several different feeds and the match footage is a rich service. But we also produce a lot of content outside of the game, which makes for a rich multi-media service offering," said Ericson.

Follow Emirates 24|7 on Google News.