Ibrahimovic gets three-match ban for rant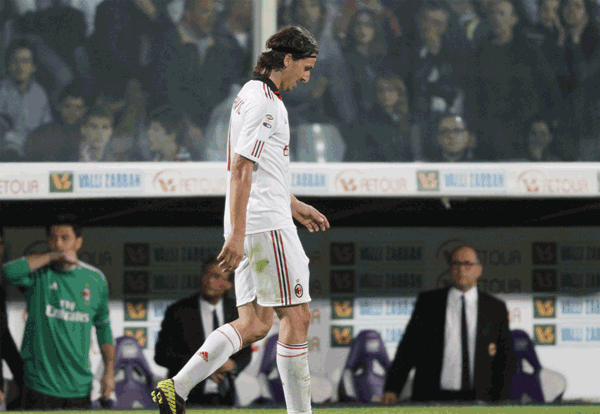 AC Milan's Sweden striker Zlatan Ibrahimovic was handed a three-match ban on Monday after a foul-mouthed tirade at a linesman during his side's 2-1 win at Fiorentina over the weekend.
Sporting judge Gianpaolo Tosel said Ibrahimovic, who had already picked up a yellow card during the game before being sent off, had shown "inappropriate behaviour against the other side... and made an offensive statement."
The 29-year-old had only just returned from a two-game ban for striking Bari's Marco Rossi in the ribs.
He aimed a rant filled with expletives at a linesman after a throw-in decision went against him.
He was duly dismissed by the referee and walked off without protest.
However, afterwards he apologised and even insisted that he had not sworn at the linesman.
"I was angry because I'd lost the ball, I said a swear word to myself, not at the referee or linesman," he said.
"I want to apologise, I walked off without creating a scene. I was looking at the linesman because he was in front of me but I wasn't saying it to him.
"My team-mates would be right to be angry with me because I (was sent-off) while Fiorentina were attacking us.
"On top of that I was coming back from a suspension and it wasn't the right time to get sent off.
"But can't I get angry with myself without getting a red card?"
Follow Emirates 24|7 on Google News.