Liverpool's Suarez hit with new FA ban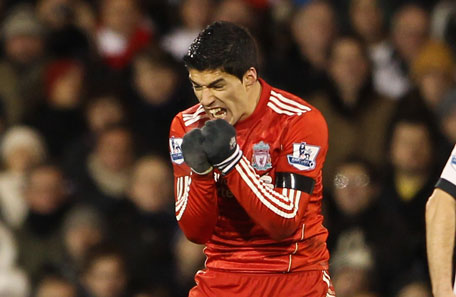 Liverpool striker Luis Suarez has been banned by the Football Association (FA) for one match and fined £20,000 ($31,300) for a gesture made towards Fulham fans in the 1-0 defeat at Craven Cottage earlier this month.
Suarez had admitted the latest charge of improper conduct, and Liverpool have also been fined £20,000 for failing to control their players in the same match - a charge related to the dismissal of midfielder Jay Spearing.
The ruling, announced on Wednesday by the FA, comes little over a week after Suarez was hit with an eight-game suspension for racially abusing Manchester United's Patrice Evra during a match in October.
Suarez had denied the racism allegations and the decision angered Liverpool, who promised to stick by the player and issued a statement in support of the Uruguayan.
Suarez's new ban means he will miss Friday's home game against Newcastle United in the Premier League.
His eight-game suspension is currently on hold, however, as Liverpool have 14 days to appeal once they have received the written judgement from the independent commission that heard the case.
Liverpool admitted the improper conduct charge relating to Spearing's dismissal, after a number of players remonstrated with referee Keith Friend, but they did not accept the financial penalty for the offence.
A statement from the FA read: "Liverpool Football Club have been fined £20,000 by The FA and warned as to their future conduct for failing to ensure their players conducted themselves in an orderly fashion during the league fixture at Fulham.
"The club admitted the charge, which was in relation to the dismissal of Jay Spearing, but did not accept the standard £20,000 penalty for the offence.
"However, at an Independent Regulatory Commission hearing today (Wednesday) the fine was imposed.
"Meanwhile, Liverpool player Luis Suarez will begin a one-match suspension with immediate effect after he admitted an FA charge of improper conduct in relation to the same game.
"Suarez was also fined £20,000 and warned as to his future conduct following a gesture he made towards the Fulham fans at the end of the fixture."
Liverpool made no comment on either Suarez's punishment or the fine imposed on the club.
Kenny Dalglish's side are currently sixth in the Premier League table, three points below the Champions League places, following a 1-1 draw at home to Blackburn Rovers on Monday.

ALSO READ:
Follow Emirates 24|7 on Google News.