Man Utd in Chicharito, Welbeck sacrifice for RVP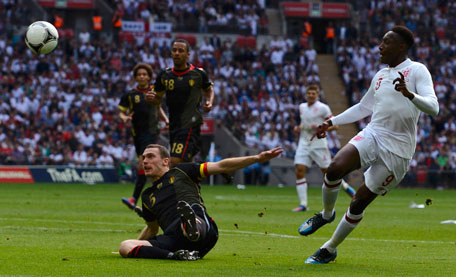 The tension is not just at the Emirates with Arsenal.

There is as much tension on the Manchester United bench.

After Sir Alex Ferguson and now Wayne Rooney stepped up the pressure on Robin Van Persie to make a decisionand choose Old Trafford over Juventus, or even staying with Arsenal, United forwards have to be wondering about their future.

The question that is pertinent is should Van Persie come to Manchester, which of United's starting hitmen will be sacrificed.

As Dimitar Berbatov will tell you, what you did last season matters little to Sir Alex.

It is all about the here and now and that must surely worry Javier 'Chicharito' Hernandez and Danny Welbeck.

Even if Sir Alex chooses to play three upfront, with Van Persie and one more forward, sitting Rooney in the hole just behind them, either Hernandez or Welbeck are going to find themselves keeping the FA and Carling Cup squads going.

Rooney, meanwhile, has no doubts about Van Persie joining him at Manchester United.

Rooney was quoted in the British press as saying,: "Of course, he's a player I admire. He has been amazing for Arsenal over many years. Last season was probably his best, he scored a lot of goals.

"If he does come here, he'd be a great addition to the squad."

Asked if he would work well with RVP, Rooney smiled: "I'd like to think so — but you'd have to ask the manager."

Rooney then hinted at a sacrificial lamb and lined them up thus:

"There are a lot of forwards here already with myself, Welbeck, Chicharito and Berba is still here.

"So there are a lot of forwards fighting for a place here."

If Van Persie does come, there will be one less place to fight for, without a doubt.
MUST READ:
Man Utd beat Chelsea to sign Modric
Man Utd mulling move for Dutch 'Roy Keane'
Arsenal star Van Persie flops against Danes
Follow Emirates 24|7 on Google News.