Mourinho keeps Ronaldo's Man Utd move alive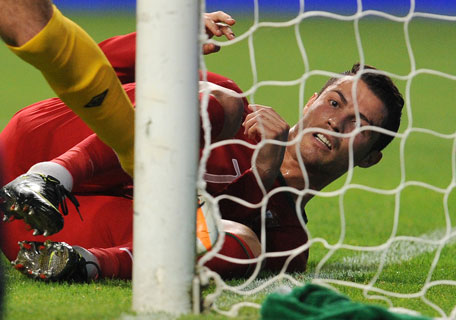 With Jose Mourinho, it is often what he does not say.
Given just how much he says, what he does not say is sometimes deafening in contrast.
Sections of the press and all of Old Trafford's millions (or is it a billion) of fans believe the path is being created for Cristiano Ronaldo to return to Manchester.
Mourinho's latest remarks confirm it will not be to the blue half of Manchester for sure.
In reply to a question about Manchester City, Real Madrid's Champions League opponents this coming week putting in a bid for Ronaldo, Mourinho said: "Don't waste your time... Cristiano and Real Madrid are perfect for each other."
Manchester United and Sir Alex Ferguson will be relieved that should Ronaldo leave Madrid, it will not be another Carlos Tevez boomerang.
However, it does raise that question of Ronaldo's 'sadness' at Madrid still being the carrot dangled before United's coach and fans.
Mourinho put out a warning to Ronaldo as well, and was quoted by The Sun as saying, "If he plays awful and tired I will take him off in the 75th minute like anyone else.
"Finally after 15 days of talking about Ronaldo it is time to see if he plays well or not."
So will Manchester United.
THE SUPERSTAR RETURNS
Follow Emirates 24|7 on Google News.