New Asian boss plays down permanent role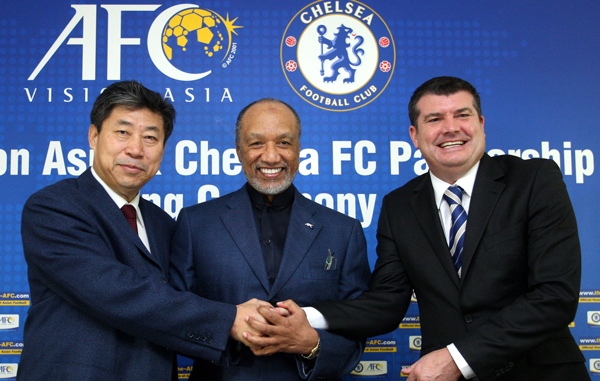 Asia's caretaker football chief insists he is not thinking about taking over full-time and is only in "temporary" charge after being handed the role by an explosive corruption scandal.
China's Zhang Jilong said it was "not yet time" to think about permanent leadership of the Asian Football Confederation (AFC), just days after arriving in Kuala Lumpur to stand in for suspended president Mohamed bin Hammam.
"It's not yet time for me to mention about this and to think about this," Zhang told AFP when asked if he wanted to be president full-time, in his first interview to Western media since being appointed.
But Zhang, 59, did not rule out running for the job after bin Hammam was barred from football over sensational claims he used cash-stuffed envelopes to buy votes in the FIFA presidential race against Sepp Blatter.
"What the (AFC) executive committee entrusts me to do at this particular moment is work together closer with all the members of the executive committee and the administration," Zhang said at AFC House in the Malaysian capital.
"So there is not any opportunity for you to think beyond the current situation," he said, adding that he is not looking to make any major changes to how the game is run in Asia.
The AFC senior vice president's shock rise to the top job from relative obscurity was triggered automatically when FIFA suspended bin Hammam while it probes the vote-buying allegations.
Events moved so quickly and the future is so uncertain that Zhang said he has not even printed out new name cards.
But he said he had not faced calls for an extraordinary AFC congress to elect a new leader. Unless bin Hammam clears his name and returns to office, Zhang could stay in power for a year before facing a presidential vote.
After bin Hammam's withdrawal, Blatter won 186 out of 203 votes in his landslide June 2 re-election as FIFA president, indicating at least a lack of opposition to the controversial Swiss among the AFC's 46 members.
Zhang's loyalties are unclear, but in January he failed in a bid to win election to FIFA's executive committee, while two bin Hammam supporters were successful.
"This (post) is only temporary according to the statutes, to be in the office to carry on with what the AFC statutes already asked me to do," Zhang said.
"So the only thing I want to do is get familiar with the administration, which is daily work at headquarters to manage with our member associations... and to deal with all these football matters in Asia."
Zhang refused to comment on the damaging claims against bin Hammam, who fiercely denies bribery as he fights to hold on to his nine-year presidency.
And Zhang said it was premature to talk about reforming Asian football, which is battling corruption scandals in several countries including South Korea and his homeland China.
"(We can't) say at the moment we're going to reform or change all this because it's not yet time," he said.
"I have objectives to follow the normal procedures, maintain stability, enhance unity, promote development, hand in hand together to manage the difficulties."
"The main difficulty is, as all of us are aware, the current situation in global football, and also the inference in the AFC and Asian football," he added, referring to corruption accusations dogging the world body.
Zhang denied that his stand against corruption was weakened by the graft crisis in China -- where he is the former soccer boss -- that has left several top officials facing jail.
"Inside China, football is really facing very difficult problems with match-fixing, corruption and so on," he said.
"This has been found out by the Chinese Football Association itself, that means internally found out. It has been solved or it's on the way to being solved by the concern of the Chinese government and the Chinese fans.
"It's not the outside who pushed the China Football Association to do this. It's China itself who found out about this corruption, gambling, and match-fixing which harms a lot the development of Chinese football."
Zhang said he supports FIFA's recent efforts against corruption, which include Blatter's quirky "council of wisdom" including Henry Kissinger, Placido Domingo and Johan Cruyff, to advise on the recent controversies.
He laughed off questions about when giant China, which continues to struggle in global football, would host its first World Cup.
"It's too far away to say," he said.
Follow Emirates 24|7 on Google News.