Palestine lose historic home qualifier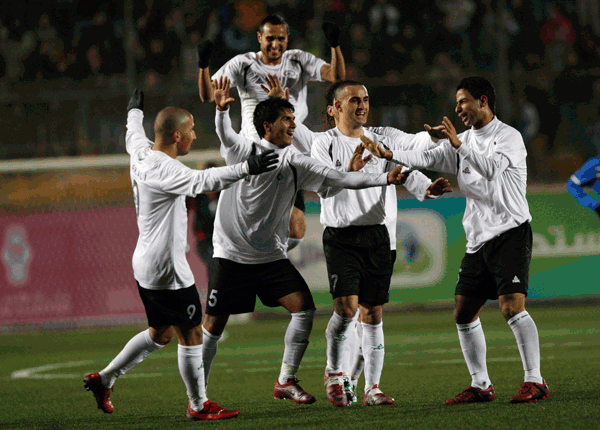 The Palestinian national football squad just came up short on Wednesday in its first-ever international qualifier played on home turf as they lost on penalties to Thailand in a 2012 Olympic qualifier.
As the match kicked off shortly after 6:00 pm (1600 GMT), thousands of excited Palestinian fans had roared their encouragement to their national team who were playing in a black-and-white strip.
"This is an historic day," Palestine Football Association chief Jibril Rajoub told reporters at the Faisal Husseini stadium in Al-Ram near Jerusalem.
"For the first time in history, the Palestinians will play under the Palestinian flag on their own ground which will contribute to efforts towards our independence and freedom, and to end the occupation."
The first leg, which was played in Bangkok on February 23, saw Thailand beat Palestine 1-0, so Palestine had to win by more than two goals to move into the next round.
However, despite a stunning volley by Al Hamid Abuu Habib in the 45th minute which levelled the tie on aggregate they ended up losing 6-5 on penalties after extra-time.
However, to many of far greater importance was the historic significance of the event.
"The whole world will see today, through means of sport, Palestine winning a great victory," Rajoub said.
Mohamed bin Hammam, head of the Asian Football Confederation (AFC), said the fact the international qualifier was being played at home was "very important."
"Our aim is to give Palestinian youths the opportunity to see their home team play on their own ground," he said.
He also urged Israeli athletes and sporting professionals to aid their Palestinian counterparts, who have faced repeated travel restrictions from the Israeli government, hampering their ability to train and take part in international events.
"We call on Israeli sportsmen to put pressure on their government to end the suffering of Palestinian sportsmen," he said.
The Palestinian national team has been affiliated to Fifa since 1998 but it took a decade before it got its own home stadium which lived up to the professional standards set by world football's governing body.
And until now, all official qualifying matches have been played abroad, usually in Jordan or Kuwait, because of the precarious security situation as well as the lack of adequate infrastructure at home.
Since the upgraded Faisal Husseini stadium reopened in 2008, there have been a number of international matches, but all of them have been friendlies.
For the Palestinians, Wednesday's match has a deeply political significance - not only is it a key step in their efforts to build the institutions of a state, but it will also show Fifa and the International Olympic Committee they are able to host competitive international matches.
Although the new ground was officially opened by Fifa president Sepp Blatter in 2008, a number of regional football squads have refused to play matches in it, claiming it would be tantamount to "normalising" the Israeli occupation.
But the AFC's Bin Hammam rejected the claim, saying there was no relationship between playing football and the political situation.
"I hope that all Arab and Muslim teams will come here to play matches against Palestine at their own home ground," he said.
"Sports must be a bridge between peoples and a way to reach peace in this region."
Follow Emirates 24|7 on Google News.