Players eat into English Premier League's wealth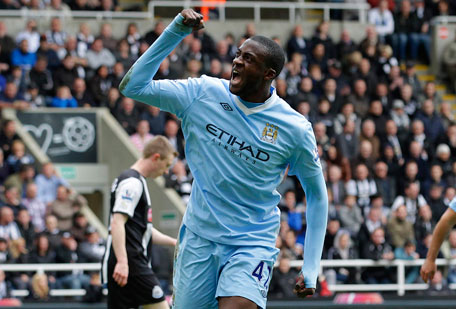 Revenues for England's Premier League soccer clubs hit a record high in 2010/11, but the players are taking an ever greater share of those riches, the annual Deloitte review of football finance said on Thursday.
The ratio of Premier League wages to revenues has risen to 70 percent, raising questions about the ability of England's top teams to comply with European soccer rules that mean clubs must cut their losses or ultimately risk exclusion from competitions.
"A significant number of clubs around Europe have some distance to travel on the road towards compliance," said Paul Rawnsley, director in the sports business group at Deloitte.
"For many clubs there is a renewed focus on increasing revenues and the cost side of the business model of some clubs also needs adapting."
Buoyed by the first year of new domestic and international television deals, Premier League revenues grew 12 percent to 2.3 billion pounds in 2010/11, the latest year for which figures are available. That compared with earnings of 1.6 billion pounds for the top leagues in Germany and Spain, and 1.4 billion for Italy.
However, the 20 English clubs made a modest operating profit of only 68 million pounds combined. Once transfer spending and financing costs were taken into account they were in the red to the tune of 380 million pounds at pre-tax level.
Germany's Bundesliga was Europe's most profitable league, helped by strong sponsorship income and the legacy of stadiums modernised for the 2006 World Cup.
The European football market overall showed resistance to the economic crisis rolling across the region, growing by 4 percent in the period.
Clubs such as England's Manchester United have developed into global brands, drawing revenue from around the world. A recent survey by the market research company Kantar, commissioned by the club, said that United had 659 million followers, cementing their status as the world's most popular soccer club.
England's biggest spenders have been rewarded with success on the field in recent weeks.
English champions Manchester City and Champions League winners Chelsea both made big losses in 2010/11. City's rise has been bankrolled by Abu Dhabi's Sheikh Mansour bin Zayed Al Nahyan, UAE's Minister of Presidential Affairs, while the Russian oligarch Roman Abramovich has underwritten Chelsea's success.
UEFA's Financial Fair Play rules mean that clubs must move towards breaking even or face being shut out of tournaments such as the Champions League from 2014/15.
Their accounts will come under scrutiny from the season just ended and this summer's transfer activity will be watched closely to see if clubs are tightening their belts.

Follow Emirates 24|7 on Google News.