Sky is the limit for Tottenham, says Redknapp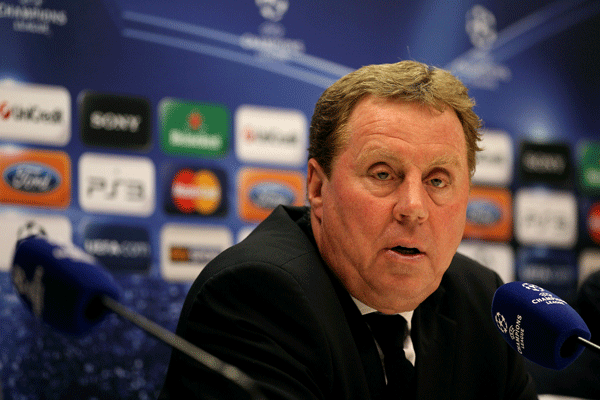 Having reached the Champions League second round, Tottenham manager Harry Redknapp believes there are no limits to what his young team can achieve.
Spurs are due to play AC Milan at the San Siro on Tuesday night having already topped a group including the reigning champions Inter Milan.
They were the joint top scorers in the group stages alongside north London rivals Arsenal and have beaten the likes of Inter and Arsenal this season.
And Redknapp sees no reason why challenging for the Premier League title and competing in the Champions League cannot become a regular feature at White Hart Lane.
However, he also urged the club's owners to keep backing him in the transfer market.
"It depends how much people want to take it on, the opportunity is there," he said.
"Like everyone, we've got to keep improving if we want to compete with the top clubs and bring in top players.
"We can achieve whatever we want here, the owners want to compete so it's up to them, they hold the key even more than I do as manager.
"When the transfer window opened they were willing to buy a top player, we just couldn't find what we wanted.
"The owners have backed us so far so if they keep doing that, in the next few years the sky's the limit for Tottenham."
And Redknapp feels that the whole club has caught the Champions League bug and no-one, the owners ENIC International included, wants to give that up.
"I think they would spend if the right targets come up. To have Champions League football for the first time at Tottenham this year they realise this is where they all want to be," added Redknapp.
"You've got to keep investing but they're willing to do that, it's just up to us to find the right targets in the summer to keep the strength of the squad and the team.
"There's nothing between us and Arsenal, we're right on the coat-tails of Manchester City and Arsenal and we're sitting above Chelsea (ahead of their trip to Fulham) at the moment.
"I'm not saying we're better than Chelsea but we're not even a million miles off Manchester United.
"A few years ago we were finishing 18, 19, 20 points adrift but last season it went down to the wire whether we would finish above Arsenal.
"We came close so there's not a lot between the teams.
"We're now genuinely a team, and Liverpool are coming back into it again, and we can genuinely look to be in the top four every year.
"If we want to keep progressing and if the owners do want to keep doing that and giving us the backing, we've got a new training ground coming, a new stadium, Tottenham are definitely a big club."
Spurs centre-back William Gallas played for both Chelsea and Arsenal before moving across London a second time at the beginning of this season.
He is in a perfect position to assess how the club has progressed in recent times.
"The club has changed a lot, I think now everyone knows Tottenham because we've had some good results and we want to do more," he said.
"What is important for us is to win every game and show everyone what we can do.
"For me and the club that's the most important thing because the club want to be big."
Follow Emirates 24|7 on Google News.