United CEO officially launches MUSS in Abu Dhabi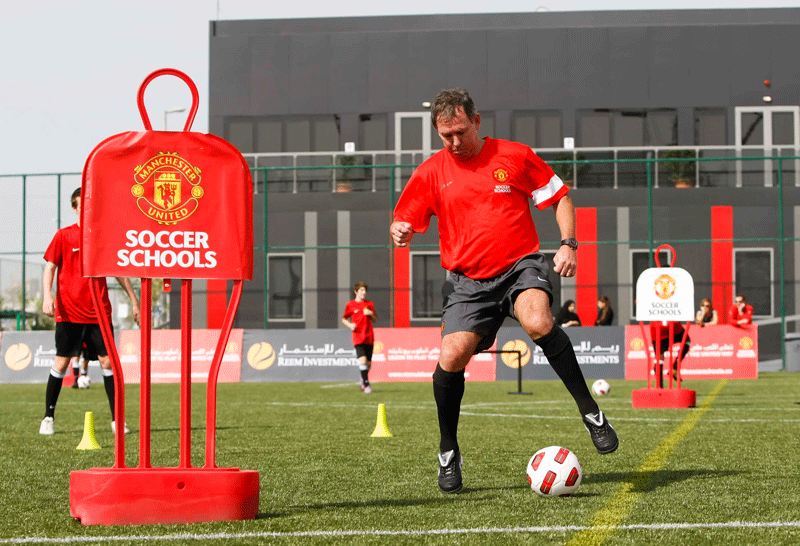 Manchester United Chief Executive David Gill officially launched the joint venture partnership with Reem Investments and Manchester United Soccer Schools (MUSS) in Abu Dhabi on Tuesday.
Gill was joined by former Manchester United and England captain Bryan Robson, CEO at Reem Investments Bambang Sugeng Bin Kajairi and General Manager Manchester United Merchandising David Seales, to announce expansion plans for MUSS into Abu Dhabi and the GCC at the Dome@Rawdhat.
Following the successful launch of MUSS in Abu Dhabi in October and the completion in December of an initial six-week course which attracted more than 200 youngsters representing 25 nationalities, the new ten-week module has now begun.
It focuses on the specific challenges and techniques required to master the midfield positions on the pitch, and places are still available for seven to 16-year-old boys and girls.
"We are very happy with the start we have made to our working partnership with Manchester United Soccer Schools, and we are delighted that David Gill, Bryan Robson and David Seales have joined us in Abu Dhabi to officially cement our working relationship and visit the new clubhouse," said Bin Kajairi.
"We look forward to providing hundreds more youngsters with the opportunity to develop their football and social skills with Manchester United Soccer Schools, and to continue to build a vibrant sporting community in the Rawdhat area on Airport Road in Abu Dhabi."
As a result of the partnership with Reem Investments, MUSS programmes are being run exclusively in the UAE for two years. Under the terms of the agreement, Reem has the option to expand the partnership into other areas of the GCC, and the presence of a top level delegation from Manchester United in Abu Dhabi emphasises the strength of its relationship with the club.
Gill, who has been Chief Executive at Old Trafford since September 2003, has presided over the club's expansion of Old Trafford to become the biggest club stadium in the UK.
"Running projects such as this one in Abu Dhabi demonstrates Manchester United's global appeal," said Gill. "It shows the importance the club attaches to take Manchester United as close to our 333 million supporters around the world as possible.
"We will continue to take a keen interest back in Manchester in how both the players and the programme progresses here so that we can support our coaching staff in delivering the best grassroots coaching programme possible."
Gill did not rule out the possibility of their first team playing in Abu Dhabi in the future although their current schedule only allows for a tour in July to prepare for the season ahead.
"Abu Dhabi is an interesting footballing area. We played in Saudi Arabia three years ago. What we don't have in England at the moment is a winter break unfortunately. Most of the Premier League clubs would like one so that there will be some training programme here. But there is nothing in the calendar at moment but we don't rule it out in the future," said Gill who acknowledged the importance of the region with 2022 World Cup decision.
Robson, who captained United to three FA Cups and a European Cup Winners' Cup, said: "We want to develop good football players, but also confident individuals with good character and attitude.
"This belief is consistent across all of our youth development programmes and Soccer Schools courses around the world," said Robson who also won two Premiership winners medals during a distinguished career at Old Trafford.
"Giving young players the opportunity to develop and learn skills is essential if we are to keep future generations enthused about the game. Our coaches here will ensure that every child regardless of their experience or ability will have the chance to enjoy success and be a part of the Manchester United family," said the legendary striker who had a kick around with students of Al Raha school.
"All around the world there are young people dreaming of emulating their heroes on the pitch and for us to be able to bring a piece of the Manchester United magic to Abu Dhabi is very exciting. I'm privileged to have enjoyed a great career at United and if the young players here can feel the same pride and enthusiasm that I did as a player wearing the red shirt, I'm sure they'll have a great time with it," said Robson, the longest serving captain in the club's history.
"We are a world brand and we like to grow around the world, no matter which country it is in trying and help develop young players. It's not important not just for the country that United go into but also for the enjoyment of kids throughout the world. I do have lot of experience now with Asian football because of my involvement with Thailand. These programmes are all about giving kids the opportunity. It's not about developing top players but about all kids enjoying football," said Robson who is Thailand's national coach apart from being an ambassador for Manchester United.
"We have the Nike Premier Cup where teams from 32 countries come from throughout the world. This (MUSS) provides an opportunity for a team from Abu Dhabi to come and play in the premier tournament if they are good enough. Two years ago a Thai under-15 school team experienced two weeks in Manchester. That to me is a great experience for these kids," said Robson who played for England on 90 occasions, captaining the country 65 times.
The second MUSS programme getting under way at the Dome@Rawdhat is themed 'Learn to Control and Create the United Way' and will highlight the signature moves of current Manchester United midfielders Ryan Giggs, Paul Scholes and Darren Fletcher with children learning specific techniques such as the Scholes' 'stop turn'.
The programme features 12.5 hours of on-field coaching by certified MUSS coaches. The cost of Dh1,650 includes an exclusive Nike Manchester United training kit of shirt, shorts and socks, MUSS drawstring bag, water bottle and skills ball.
Youngsters benefit from catch-up sessions and individual player evaluation, and the bonus for footballing parents is that they get a coaching session all of their own. To learn more about the MUSS programme call 02 449 8480 or visit www.manutdsoccerschools.ae.
Follow Emirates 24|7 on Google News.