Ladies Masters gets Princess Haya patronage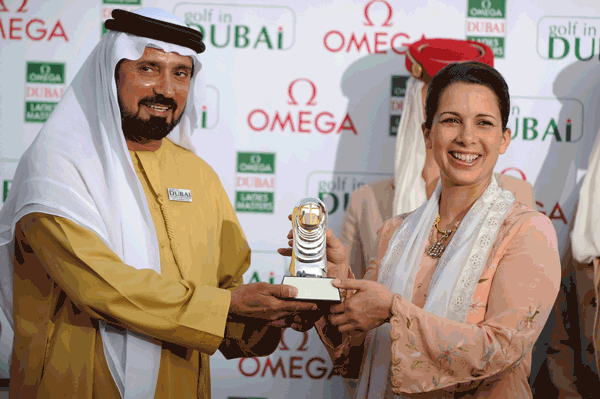 The profile of the Omega Dubai Ladies Masters has scaled a new high with Princess Haya bint Al Hussein, wife of His Highness Sheikh Mohammed bin Rashid Al Maktoum, Vice-President and Prime Minister of the UAE and Ruler of Dubai, granting her official patronage to the season-ending Ladies European Tour event to be held at the Emirates Golf Club from December 11 to 17 later this year.
Since making its debut in 2006, the tournament, promoted and organised by 'golf in Dubai', has showcased a galaxy of superstars from all over the world, making it one of the most sought-after events outside a Major, and Princess Haya's patronage is an apt recognition to the role played by the event in promoting ladies golf in the region.
Princess Haya is a woman of many facets and a role model for women around the world. She is a devoted wife and mother, a former Olympic athlete, a humanitarian, a member of the International Olympic Committee, a UN Messenger of Peace and President of the International Equestrian Federation.
"We feel privileged and honoured that Princess Haya bint Al Hussein has extended her patronage to the Omega Dubai Ladies Masters," said Mohamed Juma Buamaim, vice-chairman and CEO of 'golf in Dubai'. It only underlines the support that the event receives from the Government of Dubai.
"Sport forms an integral part of Dubai's growth strategy and international events like the Omega Dubai Ladies Masters fits well with an ambitious Dubai's drive to enhance the Emirate's image as an Arab city with an international spirit and sensibility.
"The independent facts provided by the Ladies European Tour amply confirm that the event is growing in statute and popularity every year, contributing immensely in showcasing Dubai's attractions to the world.
"For instance, the fifth edition of the Omega Dubai Ladies Masters, held from December 5 to 11, 2010, reached 685,361,644 household worldwide and generating 32,340 seconds of media exposure, valued at Dhs 445 million compared to Dhs. 352 million in 2009," he said.
Princess Haya's patronage, he said, has further strengthened our resolve to strive and deliver a product in sync with Dubai's vision of a global business hub, golfing and tourist destination for millions.
Follow Emirates 24|7 on Google News.