McIlroy heralds new generation of stars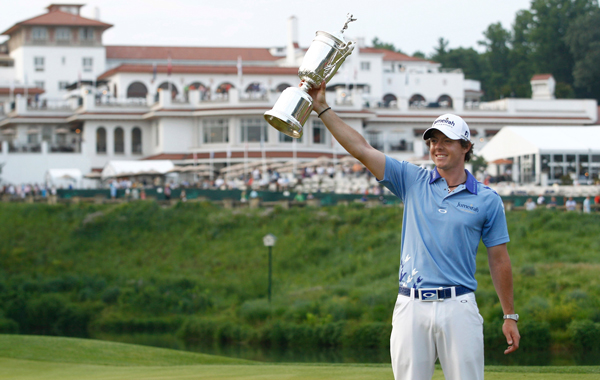 Rory McIlroy's historic romp to the US Open title on Sunday served notice that a new generation of 20-something golf stars is ready to seize control of major titles from their boyhood idols.
McIlroy fired a record 16-under par 268 over 72 holes at Congressional Country Club to win his first major title by eight strokes, a wire-to-wire triumph that made him the youngest US Open champion in 88 years.
"To sit here at 22 years old as a major champion, it's a very nice feeling, and I'm sure it will take a little bit of time to sink in," McIlroy said. "It's just fantastic."
The Northern Ireland boy wonder joins 26-year-old Masters winner Charl Schwartzel of South Africa and 23-year-old Australian Jason Day, the Masters and US Open runner-up, as the vanguard of a new set of rapid-firing young guns.
"I think we are (seeing a changing of the guard). It's great to see," said Schwartzel. "There are really exciting golfers coming up and the guys are playing well."
Add reigning British Open champion Louis Oosthuizen of South Africa and 2010 PGA Championship winner Martin Kaymer of Germany and the past four majors have all been won by players in their 20s.
"These are all young guys breaking through and winning majors," McIlroy said. "I think it's a great time for golf and it's great to see all these guys breaking through."
Like it or not, Day said, the poster boy for a new generation of golf is McIlroy after his Tiger Woods-like rout of a world-class field.
"If we wanted an ambassador for golf for the next generation, he'd be one of the guys," Day said. "He has had so much success in a short period of time. He's very level-headed. He's a very humble kid.
"Golf is in a really good spot where Rory McIlroy is right now."
As the game has grown worldwide, many youth influenced by the run of 14 majors titles from Woods that began with his triumph at age 21 in the 1987 Masters have grown into young manhood and become top talents themselves.
"Each country has their own rising star coming up," Day said. "This is the start of it and obviously Rory is leading it.
"There is a bunch of other great golfers out there that obviously we need to work a little harder to get to the level of Rory. But we really are going to start a new generation and it's really fun. I think it's great for golf."
McIlroy paid special praise to Day, relating to the frustration of near misses after third-place efforts at the past two PGA Championships, last year's US Open and a blown four-stroke lead after 54 holes at this year's Masters.
"Jason has played fantastically," McIlroy said. "I said to him on the 18th green during the prize ceremony that he's very close. To be doing what he's doing so early is fantastic. I'm sure he'll put himself in positions to win major championships. I'm sure one day that he'll breakthrough as well."
Graeme McDowell, the 2010 US Open champion from Northern Ireland, sees McIlroy as the perfect role model for young golfers of tomorrow.
"His maturity level (is great) for a 22-year-old," McDowell said. "For any kids sitting watching at home right now, he's playing golf the way it should be played, as far as his attitude and just the way he carries himself."
As South Korean Yang Yong-Eun saw up close by playing with McIlroy in each of the last two rounds, the young Ulsterman is in top form.
Yang's fear is that despite shattering a dozen US Open records, McIlroy's best is yet to come.
"My impression is that he hasn't primed yet.
There's still a lot more for him to grow on," Yang said. "He's got a great basis most players would dream of and his composure, his play, his strength, his strategy and his focus I think he's still growing and it's just scary to think about it."
Follow Emirates 24|7 on Google News.