Mickelson overshadows Woods as favourite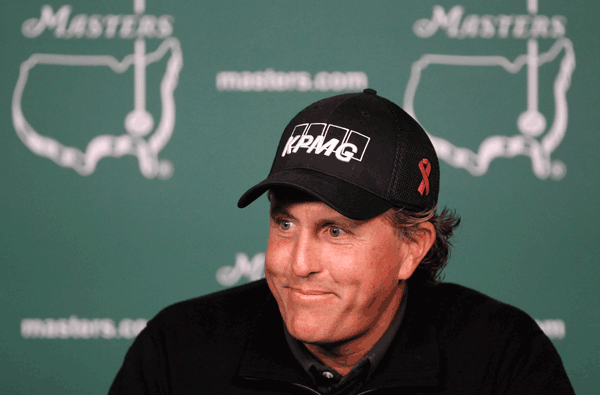 Holder Phil Mickelson and four-times Masters champion Tiger Woods were major talking points at Augusta National on Tuesday after being conspicuous by their absence from the course the previous day.
With just one more day of practice left before the start of the 75th Masters, Mickelson has emerged as the players' title favourite although few discount the ability of Woods to rebound from a winless streak dating back almost 17 months.
Left-hander Mickelson signalled he was ready to claim a fifth Major crown by winning the Houston Open on Sunday, his first success on the PGA Tour since he landed his third green jacket here 12 months ago.
"I played very well and it was a big confidence booster because I felt that golf was in me this year but I haven't been getting it out," the American world number three told reporters after practising on the range with swing coach Butch Harmon.
"I haven't had the same type of mental focus throughout the round that I expect, and I was able to do it very effectively on the weekend.
"So to be able to have that type of performance heading into here feels very good. It reminds me a lot of 2006 when I was able to put it together the week before and carry the momentum through."
Five years ago, Mickelson won the BellSouth Classic in Atlanta before clinching the second of his three Masters crowns the following week.
"It's good for his confidence," twice Masters champion Ben Crenshaw said of Mickelson's victory in Houston on Sunday.
"Most of the time you see a string of good play before someone wins the Masters, you catch a wave of confidence in your game and you want it to spill over here."
While Woods has been the perennial favourite going into the Masters since his stunning maiden victory at Augusta National by a record 12 shots in 1997, this week is very different.
The former world number one has slipped to seventh in the rankings, following his lengthy absence from the winner's circle, and most of his peers regard Mickelson as the player to beat.
"I think Phil (is more dominant)," said Germany's top-ranked Martin Kaymer. "And especially after last week, the way he won. He shot 16 under on the weekend so I think he has good chances again."
Britain's Lee Westwood played with Mickelson during that third round in Houston and had a front row seat as the American fired a sizzling 63.
"He played as good as I've seen him play ever," the English world number two said. "He played very well.
"Certainly over the first three days he was playing with this (the Masters) in mind. He was hitting a lot of shots right to left with a lot of shape for certain holes here, trying to get comfortable with that."
Like Mickelson, Woods did not play a practice round at Augusta National on Tuesday, preferring instead to spend time on the range with Canadian swing coach Sean Foley.
His comfort level here is so great, though, that most of his peers expect him to work his way into contention this week despite his recent struggles on the course.
"(His chances are) always good any tournament he plays," said Kaymer, who clinched his first major title at last year's PGA Championship. "He has won here many times ... so you should never forget about him."
Rickie Fowler, who played with Woods on the US Ryder Cup team last year, agreed.
"Tiger is struggling but I don't have any doubt that he's going to get his confidence back and start playing well again," the 22-year-old American said.
PGA Tour veteran Crenshaw also predicted a return to form by Woods at Augusta National.
"You can't count him out here," the 59-year-old said. "He's got too many memories. Once he starts stringing out shots like he likes, he'll be fine."
Follow Emirates 24|7 on Google News.