Tiger tries to roar once more at Augusta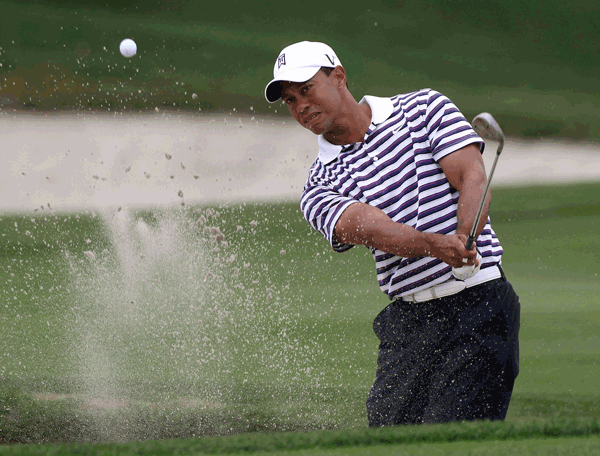 Once-dominant Tiger Woods will try to end the longest win drought of his career at the 75th Masters in Augusta after a year where he has seldom shown the amazing form that brought him 14 Major titles.
Woods has not tasted victory in 21 tournaments over 17 months since the 2009 Australian Masters, not since the eruption of a sex scandal that led to his divorce from Elin Nordegren and shattered his clean-cut iconic image.
"I've gone through stretches where I haven't won," Woods said. "I've had it happen in my career before. I've been through this. It's fine. All I have to do is keep working and stick to the game plan just like I have in the past.
"My record kind of speaks to that."
But Woods arrived last year at Augusta National Golf Club after a five-month hiatus and took a public scolding from Augusta National chairman Billy Payne before being welcomed back by golf fans on his way to sharing fourth.
"Just go out there, show up and play," Woods said. "I knew the golf course and that helps a lot."
This year, while he has not fared better at any event since, Woods returns to the fabled course where he has won four Major titles, including his first in 1997, after having played for two months against top-level competition.
"It's nice to be actually in more tournament shape going in," Woods said. "It's getting better every week I've played and I just need to keep progressing and hopefully it will peak (at Augusta).
"This year, I felt like I've played my way into shape. I've kept progressing and early in the year was disappointing because the conditions showed some signs of weakness that I had to work on. Now it's feeling very, very good."
Woods remains four shy of the record 18 Major titles won by Jack Nicklaus, who still expects his 35-year-old pursuer to fulfill a lifelong dream by surpassing that mark.
"I still think he will break my record," Nicklaus said. "I'm surprised he has not bounced back by now."
Woods, who last won a Major at 2008 US Open at Torrey Pines, said he still expects to win at least 19 Majors to surpass his boyhood idol and took some confidence from praise by the 'Golden Bear'.
"It's nice to have Jack say that. That's very humbling," Woods said. "For him to believe I can still play top-notch golf, it certainly is a confidence booster."
Woods arrives ranked fifth in the world, having lost the top spot last October after a record run of 281 weeks in a row, almost 5 1/2 years atop the list. But even some of his foes expect him to find his way back to the top.
"I would say he will get back to No. 1," US standout Bubba Watson said. "I think he will be back for sure."
Woods began working on changes to his swing with coach Sean Foley nine months ago, alterations he called the most extensive of his career.
"They are bigger changes and it has taken a little bit of time but I have shown some good signs of late," Woods said.
"When you are making changes with the game and change instructors, it takes a little time.
"I've proven it to myself on the range and I just haven't done it on the golf course consistently enough. It's in spurts. I'll get there."
Woods shared 10th at Doral a month before the Masters, his best showing since a share of fourth at last year's US Open and only his third top-10 effort since last year at Augusta.
"It was a very good week and a week I needed to see," Woods said. "I really hit the ball well and things that we were working on really felt comfortable. I was able to control just about every shot."
In addition to practice rounds, Woods will try to see what he can gain from playing Augusta National on his new videogame.
"I'll definitely be playing it, no doubt," Woods said.
Follow Emirates 24|7 on Google News.