Ranatunga slams Murali for siding with India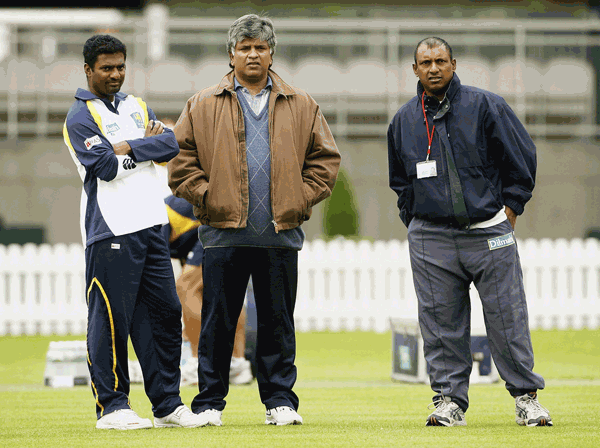 Sri Lanka World Cup winning cricket captain Arjuna Ranatunga has slammed retired spinner Muttiah Muralitharan for siding with India and the Indian Premier League (IPL) and not his country.
In a live television interview on Monday, Ranatunga reminded Muralitharan that it was former President Chandrika Kumaratunga and others in Sri Lanka who fought hard for him when the chucking controversy emerged just before the 1996 World Cup and not India.
Ranatunga himself defended Muralitharan who was no-balled several times by umpires Darrell Hair during the Boxing Day Test in Australia the previous year.
Muralitharan, who retired from international cricket after the last World Cup, had last week slammed the Sri Lankan Cricket Board (SLC) for asking its players to return home midway through the Indian Premier League for a tour to England.
He had gone on to say "there'll be a little bit of friction between the board (SLC) and the players and even the Indian Cricket Board. If the SLC is not going to support they are going to miss a lot from India, because when India tours Sri Lanka it is very important and if we are not playing in the Champions League Twenty20 we are going to lose some money. Friendship between India and Sri Lanka will be negative".
Ranatunga also raised suspicion on the IPL saying it invited foreign players to play with the Indians and finally the Indians are able to identify the weak areas of those foreign players when it comes to games between India and another foreign national side, according to News Now.lk website.
The outspoken Ranatunga, now a member of parliament (MP), had been a vocal critic of the IPL from the onset criticising a decision by the Sri Lankan board to cancel a tour of England in 2009 to allow their players to take part in the cash-rich Indian Twenty20 tournament.
An opposition MP who fell out of favour with the ruling party, also created a controversy just before the World Cup finals when asked whether he advices the Sri Lanka team by saying he does not need to when the president of the country controls the team.
Follow Emirates 24|7 on Google News.