Dubai-born cricketer scores record 1,740 runs in calendar year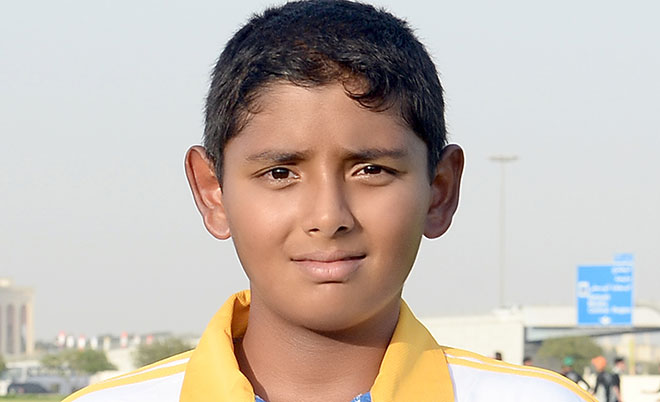 Scoring 1,000 runs in a calendar year is the dream of every international cricketer. For a 15 year-old to get almost double that figure during a season is an incredible feat. Above all it requires tons of patience, application and hunger to keep driving ahead relentlessly in pursuit of runs.
Dubai-born Indian schoolboy Macneil Hadley Noronha seems to have these qualities in abundance, carving a niche for himself by accumulating a record 1,740 runs in UAE and India while representing The Millennium School, Dubai, Desert Cubs Cricket Academy (DCCA) and Mangalore district in the Under 16 zonal tournament in Karnataka.
A right hand wicket keeper-opening batsman who also bowls leg spin, Macneil displayed a maturity beyond his age as he knuckled down with determination to achieve his ambition of gaining selection to the Karnataka State side.
The baby steps in his cricketing journey began about eight years ago, following in the footsteps of his father Marcel Noronha who played for college as an all-rounder.
Macneil's talents blossomed during the last two years as he began pursuing his goals seriously.
The youngster recalled with pride about his first 'Man of the Match' award for scoring 36 and claiming three wickets against an England school team in 2014.
However, his career took off after joining DCCA in 2014 and the runs began flowing off his blade.
He treasures the first century he scored in India against Uduppi district.
"I scored 114 not out on May 5. That's actually memorable because in India there is lot of turning pitches. Scoring a hundred is very good unlike in Dubai where you get flat pitches. It gave me confidence to play in India on spinning wickets," said Macneil who smashed a 72-ball 102 in Dubai when Dave Whatmore chose 16 teams for a tournament at Skyline University in 2014.
Asked how he managed to become a run machine scoring three centuries and 12 fifties this season, Macneil said: "Cricket gives you lot of patience, skills, technique and application. It's like doing an exam. Patience is key. Staying at the wicket will get me runs. I have to be patient and hit the bad balls. I don't get impatient because then you will lose balance, technique and will go for some bad shots and get out."
The importance of technique was instilled in him by Samuel Jayaraj Muthu, a coach from Karnataka Institute of Cricket in Bangalore.
"That's where I got all my techniques properly and I thought if I come to Desert Cubs I would advance my technique. I started scoring runs and in every tournament I score at least a 50," he said.
His recipe for scoring runs is simple.
"It's about patience and technique. If you stay at the wicket, runs will come automatically. I don't think like some people who go impatiently to the wicket," said young Macneil who has Royal Challengers Bangalore stars Virat Kohli and Lokesh Rahul as his role models.
"They have power and technique at the same time and they don't get out easily. I've never seen their patience go out," said Macneil whose academic goal is to become an aeronautical engineer.
DCCA head coach Presley Polonnowita considers Macneil to be a special talent and is creating a pathway for him to achieve his goals after seeing him come through the ranks.
"When somebody joins it is difficult for him to get highlighted inside our big academy. But I heard lot of good things about him, specially his commitment at the nets. I understood his free scoring pattern, hunger to score runs and passion for the game," said Polonnowita who saw his immense potential when the academy toured Australia last year.
"He was playing under 15 but we wanted someone to play for under 19 as well because we were running short of players. He came up and faced the challenge. From there onwards I have seen a big change in him and saw how committed his parents were to reduce his baby fat," recalled Polonnowita.
He showered praise on Macneil for coming good on tricky surfaces in India.
"Playing in India on turning wickets and against good spinners is not easy. They used to change the practice pitch other way round for him. He used to bat on the bowlers' side because there is lot of footmarks in that area and ball doesn't come as per your wish. He upscaled his technique to play very late to overcome that barrier," said Polonnowita, a former Sri Lanka cricketer.
Macneil has also left his indelible mark at DCCA where he comes under a renowned batting coach Wasantha Jayasekera, becoming the first batsman to score a fifty and century in the newly laid turf at Sharjah English School. He was also the second highest run-getter in the National Schools League conducted by the Emirates Cricket Board.
"During the last four months from February to May there is a big improvement in his attitude, his way of thinking and shot selection especially. He used to go after each and every ball earlier. Lately he tries to occupy the crease since as the main player in the team he has to take lot of burden," said Polonnowita endorsing him as a good onside player.
Macneil's favourite shots are the flick and square cut while he is learning to play inside out strokes as he adapts to T20 cricket as well having the ability to hit sixes.
Second in a family of two, Macneil is not under kind of pressure from his parents to climb the ladder of success.
"I'm expecting his God-given talent to come out. Whatever step he reaches, we are there to support him. We are not putting more pressure on him. He is a special talent, a natural player. He is prepared to play any shot because his body can adjust," said Macneil's father, an affluent businessman in Dubai.
Follow Emirates 24|7 on Google News.