Dubai Islamic Bank wins new T20 cricket league - Last Man Stands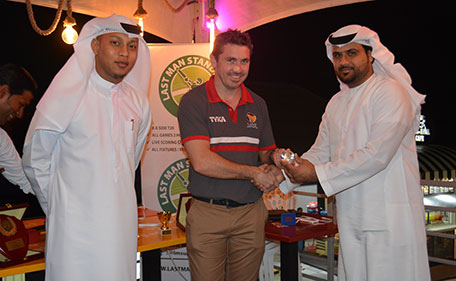 Dubai Islamic Bank won the unique T20 cricket league Last Man Stands (LMS) Dubai held in the UAE for the first time.
The Emirates Cricket Board (ECB) and Dubai Cricket Council (DCC) have endorsed the staging of Last Man Stands UAE in Dubai and support spreading the leagues out to the other emirates in 2016, to encourage the growth of amateur cricket in the UAE.
Five teams took part in the first league: Six Pistols, Long Shot, Dubai Islamic Bank, HSBC Hyenas and HSBC Hippos.
It was played at Repton School, Dubai during January and February 2016.
The league was keenly contested with Dubai Islamic Bank winning the title while Six Pistols were runners-up.
Best Batsman was won by Khurram Ali of Six Pistols
Best Bowler was won by former UAE player Ali Asad of Dubai Islamic Bank.
Best Bowler was won by Ben Bazil of Long Shot
Last Man Stands.com is the fastest growing Twenty 20 cricket format in the world for amateur cricketers and is played in over 10 countries including UK, Australia, New Zealand, South Africa, Pakistan, Bangladesh, Canada, USA and Sri Lanka with over 2500 registered teams and a total of over 50,000 cricketers playing in these teams.
LMS is brought to the UAE by the Abdullah Yussuf who heard about this unique cricketing T20 format via his family friend Aneel Sabir - President of the HSBC UAE Cricket Club, Old Wellingtonian and ex-Berkshire County cricketer (UK).
Having played the format in the UK previously, Aneel told Abdullah of the format and how huge the following of LMS was in the UK and moreover the pace at which it was growing worldwide.
In no time, knowing of how big cricket was in the UAE, Abdullah had bought into the idea of LMS and begun talks with LMS, ECB and DCC to run the UAE part of this global 'cricketing movement' for the world of amateur cricketers.
Abdullah's aim is to help assemble an all-Emirati LMS team, which he is confident of achieving soon.
"I am sure this is achievable. Emiratis have grown up with the game of cricket as much as football... it's just that we have probably not tried to play cricket in our youth. I will try to challenge this and if it means I will play, then so be it. There is nothing better than leading by example," he said.
LMS leagues are predominantly made up of club, corporate, social, indoor, community cricket teams, retired players and new people looking to get into cricket.
Last Man Stands has been featured by ICC, the world's governing body for cricket, in their feature ICC Cricket 360 – you can view the video by clicking: youtube.com/watch?v=nTYEhW9phyY
In 2017 the LMS World Championships will be held In Cape Town - South Africa
Follow Emirates 24|7 on Google News.