Dubai launches million dollar World Drone Prix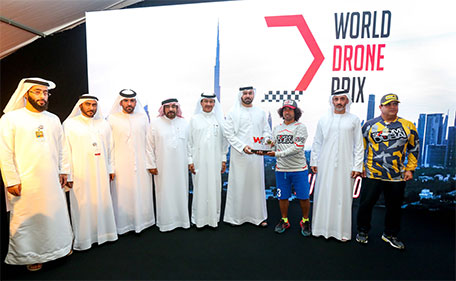 Dubai underlined its status as a city of the future with the launch of the inaugural million dollar World Drone Prix.

This special announcement was appropriately made on the final day of the World Air Games at Skydive Dubai.

"Dubai is no longer a city that dreams the future. It is a city from the future," said Mohammed Al Gergawi at a press conference on Saturday.

The World Drone Prix is the biggest race of its kind, bringing together the best pilots of the world to go head-to-head and push the drone industry to innovate and improve.

As the curtain fell down on what he described as a "phenomenal event" comes the announcement of a futuristic race which one dreams of in science fiction or see in movies.

"In Dubai, we believe every end is the beginning of a new journey. Our journey towards being in the future starts today," said Al Gergawi revealing that under the directions of Sheikh Hamdan bin Mohammed Al Maktoum, Crown Prince of Dubai and Chairman of the Dubai Sports Council, Dubai will host the biggest global race in the sky with a grand prize of one million dollars.

"The World Drone Prix is the future of racing pushing the boundaries of drone technology until it becomes vehicle of transportation in the future," he added before Omar Sultan AlOlama, Secretary General of the newly formed World Organisation of Racing Drones (WORD) gave a timeline for the WDP.

On December 20 the code of conduct and standard of drone racing around the world and the rules and regulations of racing in this World Drone Prix will be set. January 4 will be start of qualifiers which will be held in every major continent and the cities that have a great drone racing community. March 9 will pre- race for qualifying teams who will be flown into Dubai. March 10 will be the grand opening before Race Day on March 11, said promising the biggest and hopefully the best drone race the world has ever seen.

He declared that WORD will be guided by five pillars such as governing body for WDF and related drone race, it will set rules and regulations for the industry and races worldwide, it will award host cities the race depending on regulations, it will accredit and test leading pilots and organisations, and finally it will spread awareness on positive comercial uses of drones.

Teams should have among its members, a pilot, a navigator, a pit stop personnel, a pit stop mission and a team leader. In addition they should have at least one sponsor which states the possibility of the construction of the drone, he added.

Qualifiers must place in top three in qualifying races which will lead to 15 or more teams qualifying for the WDP, he said.

The first annual World Drone Prix (WDP) will take place in Dubai on March 11, 2016, launching the international Drone Prix racing federation.

The competition, comprising freestyle and speed races, is the first of its kind in the world and carries prize money of over a million US dollars.

"We aspire to be the world's most dynamic city and this championship is one of a number of emerging sports we are proud to have been part of encouraging," stated Sheikh Hamdan who is the honorary chairman of WORD.

"Designing and producing racing drones is expected to become a $4 billion industry by 2020 and Dubai intends to lead the way in encouraging innovation and the development of pioneering drone technologies," added Sheikh Hamdan for whom the sky is the limit.

The million dollar prize is to be awarded to the winner of the speed racing event, while a further prize award will be made for the freestyle event.

Applications to take part in the qualification rounds will be accepted until 15th February 2016 and the race is open to any team or individual in the world.

"The World Drone Prix is expected to merge science fiction with reality, giving its audience an unparalleled experience," said Al Gergawi, founder of WORD. "We hope this event and others like it will accelerate innovation in this important emerging technology."

Dubai is looking at unleashing the potential of this industry in ways that serve and better human lives globally. The near future applications of drones in Dubai may include radical new models of public transportation, service delivery and emergency response systems.

To support the Drone Prix and provide a regulatory basis for fair and open competition, a drone racing federation is to be founded.

WORD will oversee the Drone Prix and support the emerging series.

"We are keen to use this event to push for investment and development in peaceful and creative applications of drone technologies," Sheikh Hamdan commented. "We have already started on this path with the international Drones for Good award, which annually grants $1 million for pioneering applications of these technologies. We think this racing event will truly spur new efforts to push the boundaries in this dynamic young industry."

The first season of the World Drone Prix will run to December 2016, with other cities around the world already set to join the first Series.

The first season of the WDP will include three global races that will expand with every season to come.

Host cities are encouraged to have supportive regulatory regimes in place and be able to provide facilities suitable to manage the event. A private/public partnership, WORD aims to encourage collaboration and inclusiveness and act as a platform to unify the voices of drone enthusiasts and manufacturers alike as it develops this fast-moving and exciting spectator sport.

"We want the World Drone Prix to be a testing ground, a hotbed of innovation," stated Al Gergawi. "We want to see the best in the world head to head. With a million dollars at stake, they have it all to race for."

"We aim to create the world's most sophisticated drone race, pushing the boundaries of both the teams and the manufacturers for them to innovate and lead," stated Omar Sultan AlOlama.

Using technologies such as virtual reality headsets linked to drone-mounted cameras, racers can experience a totally new type of flight and apply remarkable degrees of control and manoeuvrability to drones travelling at seemingly bewildering speeds.

One aspect of the sport that is remarkable is that it can be enjoyed by racers regardless of age, sex or physical constraint.

What does Drone Racing have that other sports don't?

Drone Racing has emerged as the first social media sport, advocated for by people on their social media accounts, and it has just expanded in popularity ever since. Another thing that makes drone racing special is the fact that the average person, even someone without any physical strength, can compete on the global stage and become a champion.

It merges the physical and the virtual, to immerse both the pilot and audience in a flying avatar that is a drone, which is a sensation that people cannot experience through any other sport.

Dubai wants to attract people from the drone industry as well as inspire people around the world. One of the main reasons why drone racing has not been publicised on a global scale yet is the fact that most people consider it a trending hobby rather than a sport.

Follow Emirates 24|7 on Google News.