Habtoor Group may cancel women's tennis challenge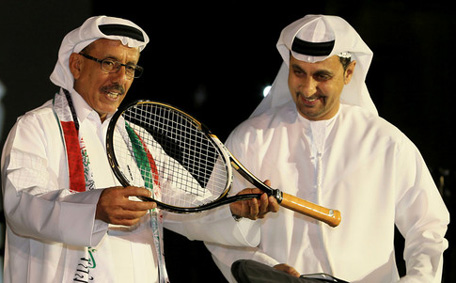 Dubai-based Al Habtoor Group is considering cancelling the 17th annual tennis challenge tournament for women this year because of obstacles caused by rifts among members of the UAE Tennis Association and other parties although the tournament itself is not involved in such differences.

Habtoor Tennis Challenge has involved prizes worth Dh2 million annually and has gained good regional and global reputation since it was launched 17 years ago.

The group's chairman Khalaf Al Habtoor noted that this important event has given rise to female champions in the game and that they are now classified among the top 10 players in the world.

He expressed regret about the group's intention to cancel the tournament this year due to obstacles and disagreements among those members.

Al Habtoor also said he was surprised by the "personal" behavior of some parties, adding that this is "discouraging the private sector from supporting this game."

Habtoor Tennis Challenge

Habtoor Tennis Challenge was created by Khalaf Al Habtoor to encourage the development of Women's Tennis in the UAE.

He felt that establishing a professional ladies tournament in the UAE would give a much-needed boost to the women's game in the region.

The tournament has seen top quality tennis players and some storming juniors.

Historically, the tournament usually attracts a handful of players ranked among the top one hundred players in the world and some rising junior stars, this mixture of talent and experience produces an amazing atmosphere throughout the event.

Follow Emirates 24|7 on Google News.