Liverpool target fan base in Dubai to expand coaching programme in UAE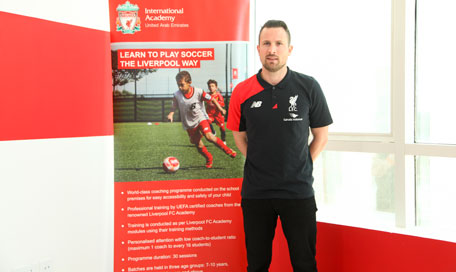 Liverpool aim to reach out their growing fan base in the Middle East with their coaching programme in Dubai.

"It is the first time we have done any coaching programmes in this country. So we are really excited. It's a great opportunity to put these projects in place and get up and running so we are really looking forward," declared Dan White, head of Liverpool FC's Soccer Schools worldwide after a representative office was opened in Dubai on Sunday.

The programme will initially focus on schools in Dubai and will replicate what White termed the "authentic Liverpool way" of coaching.

"In the last two years we have delivered coaching programmes in over 20 countries. We do that around a base of 100 coaches we have based in Liverpool and then send out for these projects to deliver the coaching sessions. Across all of those programmes we have coached around 15,000 young players a year. We got some partners in the US. We got extensive programmes across Scandinavia, Egypt, South Africa, India, Japan and China. This (UAE) was the logical next step really to have a base here as well," said White when asked about their programmes around the world.

A Dubai-based sports management company Pesco will co-ordinate the Liverpool project in the UAE which is open to youngsters between the age of seven and 15.

"As a club we are fortunate to have lots of fans around the world. What's great about the international academies is it allows us to take the club to the fans in lot of different parts of the world. So we know we got fans here as well and this is a great opportunity for us to let them come onto the programme, learn how to play 'The Liverpool Way' and be part of the Liverpool family," said White when asked why Liverpool decided to set up an academy in the UAE.

On their plans for expansion to other emirates, White said: "This is a long term project and we got a long term plan. Phase one we want to get it right here in Dubai. We got a brilliant programme here and then we'll work with our partners Pesco to look at opportunities to expand. We are thinking about it already but we are concentrating at the moment on getting up and running and getting the schools operational here in Dubai."

How will 'The Liverpool Way' be different from the rest?

"We believe we have the most authentic club coaching programme in the world. What that means is players that participate on these Liverpool courses will get exactly the same training and coaching as what the players do back in Liverpool. A key element is we got some excellent coaches coming out here in the next week or so and as the programme grows more coaches will follow as well. What we can guarantee is it will be authentically Liverpool. The kids will have a great time first and foremost. They will get taught the fundamental skills when you are starting out on football, that you need to progress and increase your talents," said White.

How will the Liverpool project assist in the development of future UAE talent?

"For me there is two parts. With our programme we obviously teach football skills and what happens on the pitch. Our programmes is a big benefit in terms of developing life skills as well. Things like communication, team work, hard work and endeavour. Those great values can come through a programme like this. What I tell to all the kids who come on this programme is what I need to develop is not only on the pitch but off the pitch as well and that will be of great benefit to the youngsters here in the UAE," he said.

Liverpool's UAE project aims to make it accessible as possible by taking it to the schools.

"The schools have the facilities so we are going to deliver from these schools to make it easy as possible for many young players here to be coached by Liverpool coaches," he said.

Asked what message he would give to aspiring footballers to join Liverpool FC's coaching programme, he said: "It's about first and foremost they will have a brilliant time. They will get coached by excellent Liverpool coaches that have been trained and worked for Liverpool and are travelling over to deliver this programme and they will learn on the pitch and off the pitch. We will aim to develop every single player that plays on one of our courses. May be someone improves their confidence or another person may be better at communicating. So not only will that help them on the pitch, that may help them in their career. We see it as an all round education that will play a really positive role here in the UAE."
Follow Emirates 24|7 on Google News.