Pacquiao to fight in Dubai 'with or without' Mayweather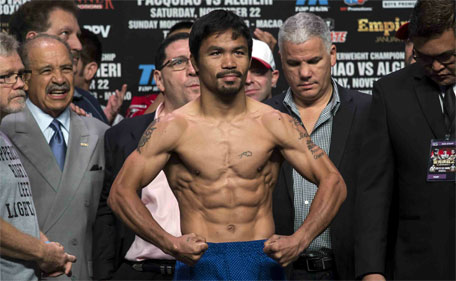 A Dubai boxing promoter is pursuing plans to bring Filipino ring icon Manny Pacquiao to the UAE even as talk of a mega fight with unbeaten American Floyd Mayweather gathers momentum.

'Prince' Amir Shafypour, Promoter and Managing Director at Golden Cage Promotions and Events, has been on the line with Pacquiao's manager Freddie Roach to make this a reality.

"We are confident of hosting a fight featuring Pacquiao with or without Mayweather," Prince 'Amir' told Emirates 24|7.

"We are interested in Pacquiao because there are hundreds of Filipino expatriates not only in the UAE but also around the Gulf who would fill the stadium to see their world champion," he said.

"It would be a sell out and fans in this region deserve to see Pacquiao fight before he hangs up his gloves," added Prince Amir who is founder of the Global Fighting Championship series and has promoted Dubai as the next Las Vegas of boxing.

Dubai certainly has the venues to accomodate more than 13,000 fight fans who filled Venetian Macau on Sunday to see Pacquiao outpoint American Chris Algieri to retain his World Boxing Organization welterweight title.

Unbeaten two-belt world champion Danny Garcia could be next for 'Pacman', according to Roach, who is tired of waiting for the elusive showdown with Mayweather.

"Danny Garcia at 140, we'll go there," added Roach. "There are options out there. Mayweather's not everything.

However, Pacquiao's dominant peformance has heightened calls for the first billion-dollar fight in history.

"I really want the fight. The fans deserve it," said Pacquiao afterwards, throwing down a challenge by imitating a new TV commercial in which he mocks Mayweather.

It has been reported that the mega fight between Pacquiao and Mayweather could take place as early as May next year.

Mayweather is believed to be demanding a re-match clause in the contract if he succumbs to the mounting pressure to fight Pacquiao and then loses, according to the Daily Mail.

That was revealed by Roach, as he reviewed the prospects for a Mayweather fight before flying back from China to Los Angeles.

There seems to be some progress with obstacles raised by Mayweather being removed, including Pacquiao agreeing to random blood tests for drugs and accepting a 60-40 financial split in favour of his rival for the mythical title of greatest pound-for-pound boxer in the world.
Follow Emirates 24|7 on Google News.