Pakistan, Lanka fans in UAE cheer for India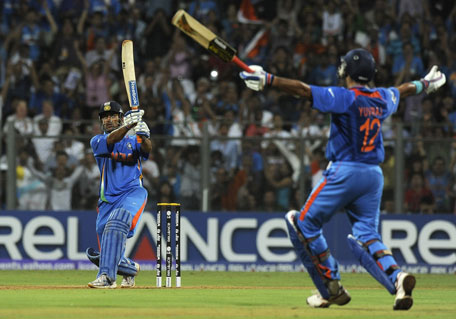 Pakistan and Sri Lanka cricket fans in the UAE will be rooting for India and hoping the World Cup remains in Asia.

Title holders India are the last Asian team standing in the tournament and face probably their toughest hurdle in the form of co-hosts Australia in the second semifinal at the Sydney Cricket Ground on Thursday.

The winners will go on to face the other co-hosts New Zealand next Sunday in Melbourne Cricket Ground.

Cricket World Cup 2015 saw four Asian teams qualifying to the last eight for the first time in the history of the competition.

India beat Bangladesh while Pakistan and Sri Lanka were knocked out by Australia and South Africa respectively.

But India have beaten Australia just once in 35 years in a one-day international at the Sydney Cricket Ground and the hosts have won all six semi-finals they have contested since the inaugural event in 1975.

"Australia have the advantage on bouncy wickets but I will be supporting India to turn the tide," said Adeel Akhtar, a Pakistani cricket fan from Lahore.

Another Pakistani fan Mohammed Zubair conceded Australia was a tough team to beat but he hoped India would come good.

"It depends on how India handle the pressure. They have made a good comeback and are in a good position," he said and wants the World Cup to remain in Asia.

Khalid Ghauri from Ajman echoed the general consensus among Pakistan cricket fans in the UAE who have shed aside different loyalties to back India.

"India are the favourites being one of the unbeaten side and look very confident. Being the only Asian sub-continent team, I will be supporting India," he said.

"India is having the momentum and have a very good chance of beating Australia who may have a slight edge because of home advantage and mental aspects," said a Sri Lankan cricketer based in Dubai Amal Karunaratne who will be cheering for India.

Another Sri Lankan cricket fan Gamal Rahim summed up the sentiments of the expatriate community when he said: "We had four Asian teams in the quarter-finals. We should be proud of that. India has played like champions during the World Cup and they have a chance to prove an Asian team can win the trophy outside the sub-continent."

Starting with two wins against Pakistan and South Africa, India won all six group matches to top Pool B and then downed spirited Bangladesh by 109 runs in the quarter-finals.

"I like to see good cricket. Australia is a tough side but India can win. The toss will be vital and till the last ball we can't say who will win," said an Indian housewife Blossom Raj who is confident the Asian community will be united in support of India because they would like the World Cup to remain in Asia.
Follow Emirates 24|7 on Google News.