Looks like Woods may settle for second best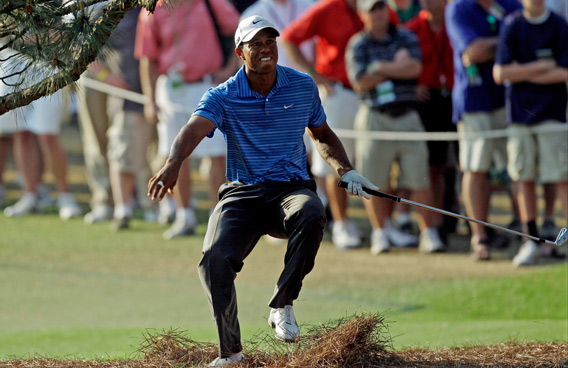 The list was on his bedroom wall growing up, a daily reminder to Tiger Woods about his goals in life. Simple, yet audacious, the plan was to break the records set by Jack Nicklaus and become the greatest golfer ever.
For a long time it looked like it would be easy. His historic romp at the Masters formally announced his arrival, and Woods would win seven more major championships in his first six full years on tour.
By the time he won on one leg in a US Open playoff so epic that office workers around America stopped to watch history, the count was up to 14. The coronation would come later, but no one can say they doubted it would come. Nicklaus himself remained convinced of it as late as a few months ago, saying he expected Woods to one day win more than the 18 he collected over the years.
But now the counting has stopped. The window of opportunity is narrowing.
Suddenly fragile both physically and mentally, Woods won't be teeing it up next week at Congressional Country Club. There's a very real chance that by the time he plays in his next major it will have been nearly four years since he won his last.
The drought is already the longest of his career. And there is no indication it will end anytime soon.
The golden era of Tiger Woods is over, done in by both scandal and injury. He's not going to win five more majors, might not even win five more tournaments.
So maybe it's time to put his career in place. Time to assess his place in history.
That he's the greatest golfer of his era is beyond dispute. Anyone who watched the way he intimidated opponents and beat courses into submission over the years accepts that.
But anyone who thinks he's the greatest player ever just doesn't know Jack.
Nicklaus set the benchmark, and he remains the benchmark. With Woods now seemingly out of the chase, the 18 major championships he won may end up being one of the most unassailable records in sports — and, remember, major titles are how greatness is defined in golf.
Nicklaus, too, did it against players who knew how to win. He faced down Arnold Palmer and Arnie's Army in the Masters, beat Gary Player almost every time it really mattered, and tangled with Tom Watson in one of the most famous duels in golf history.
When he didn't win, he usually came close, such as the time Lee Trevino tossed a rubber snake at him and he lost a playoff in the 1971 U.S. Open. There were 19 second-place finishes in major championships, nine thirds and 56 top fives.
And when it seemed like there was no way he could win another, he charged down the back nine of Augusta National 25 years ago to win one last green jacket in perhaps the most memorable Masters ever at the age of 46.
About the only thing Nicklaus didn't do was win a bunch of major titles in a row. Woods did, and his Tiger Slam of 2000-01 - when he held all four major championship titles at once - is likely as untouchable a record as the 18 majors won by Nicklaus now appears to be.
What might have happened had Woods not torn up his left knee and then his life will, of course, long be debated. Remember, he did come back from surgery after the U.S. Open win at Torrey Pines to win six times on the U.S. PGA Tour in 2009 before his secret life was exposed in November that year.
He hasn't won since, though he tantalized fans with a brilliant front nine charge in this year's Masters that put him in contention and sent roars cascading across Augusta National. Woods faded coming in, though, and reinjured his knee while trying to hit an awkward shot off the pine straw on No. 17.
The Open won't be nearly as fun without him, and it's telling that the USGA still has tickets for sale at the gate at Congressional. For all the talk about new world No. 1s - and there seems to be a new one each week - Woods remains by far the biggest draw in the game and the only player who can make TV ratings jump just by making a move.
Golf one day won't be nearly as fun without him, either. Woods not only turned a fringe sport into must-see TV, but he gave the game a boost by making it seem cool once again to a generation it seemed to have passed by.
He might not catch Nicklaus, but he will have come closer than anyone else. Historians will rate him above Palmer, Ben Hogan, even Bobby Jones.
For anyone else it would be a spectacular career beyond their wildest dreams. For Woods, though, it's second best.
And that's one place he never expected to be.
Follow Emirates 24|7 on Google News.