Man Utd discover their own Xavi - Jesse Lingard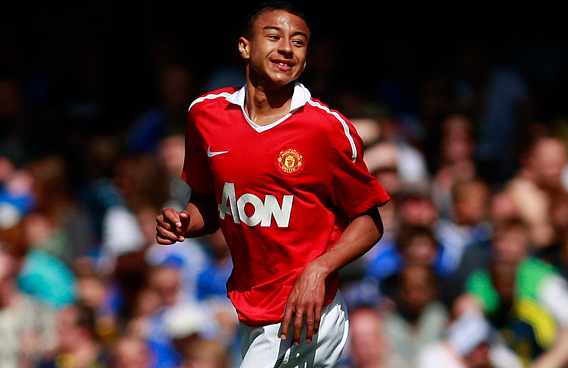 Manchester United have been second best to Barcelona for three seasons running now. Part of that may be down to the presence of Xavi and Iniesta in the Barcelona line-up – playmakers who, along with Leo Messi – can thread the ball through the eye of a needle. Or any defence in the world.
Sir Alex Ferguson has often said that football is cyclical in nature with clubs going through ups and downs when new talent comes in and old pros move on.
Well the good news is United may have discovered their own young Xavi and Iniesta, if reports are to be believed.
In a recent interview with 'The Guardian', Danny Wellbeck, another youth player who has made the transition to the first team, said that two players in particular in the Reserves remind him of the Barcelona duo.
Their names are Jesse Lingard and Larnelle Cole.
"Sometimes I train against Larnelle and Jesse and I think I'm playing against a little Iniesta and Xavi," Wellbeck said in the interview.
That will be good news for Manchester United supporters.
Speaking to 'Red View', the Manchester United club magazine, the man himself, Lingard said he is hoping to make his senior bow before the season is out.
The 19-year-old has been one of the Reserves' star performers this term - he scored his fifth goal of the campaign in Thursday's 4-2 defeat to Man City in the Manchester Senior Cup. But although he was on the bench for the Carling Cup clash with Crystal Palace and Barclays Premier League encounter at Newcastle, he has yet to get a taste of the senior action.
"I've been involved with the first team and I am playing well for the Reserves so we'll see where it goes from there," Lingard told MUTV. "The aim is for more and hopefully I can play in the Europa League.
"It was good experience [at Newcastle], being around the players. Obviously, if you're going to be a Manchester United player, you have got to get used to that sort of stuff and I enjoyed it.
"It's always a good vibe. You talk about tactics before the match, and the coaches make sure you get enough rest for the big game.
"I've been getting a lot of advice actually. Chicharito told me about movement, Wayne Rooney spoke about finishing and Dimitar Berbatov talked about composure. It's good to get a lot of tips from them."
Follow Emirates 24|7 on Google News.