Olympic champion McLeod sets sizzling 110m hurdles pace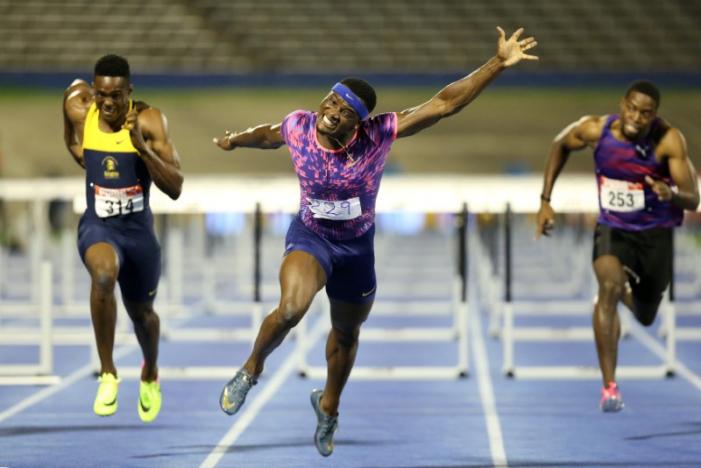 Reigning Olympic 110 metres hurdles champion Omar McLeod ran a sizzling 12.90 seconds in Kingston on Saturday to lay down a marker ahead of the world championships.
McLeod's run to secure a third successive national title at the Jamaica championships was the fifth fastest of all time, level with American Dominique Arnold's 2006 mark and only a tenth of a second behind Aries Merritt's world record.
ADVERTISING
Apart from Merritt, only Cuban Dayron Robles (12.87), China's Liu Xiang (12.88) and American David Oliver (12.89) have run faster.
From lane four, McLeod was quickest to the first hurdle and never eased off the throttle to better Hansle Parchment's previous Jamaican record of 12.94 seconds set in 2014.
McLeod told Reuters the world record was now firmly in hissights.
"Oh yes!" the excited hurdler said. "My new coach (Edrick Floreal) told me that every time somebody asked me about the world record I shied away from it last year and I don't know why.
"But he made me fall in love with the hurdles again.
"It was a humbling experience because he made me feel like I just started hurdling.
"There were a lot of things I had to work on technically and it's now all coming together.
"And he said when anyone asked if I'm going to break the world record, I should say 'yes'. And I'm going to do it."
McLeod's impressive time came despite clipping a couple of hurdles, he said. His coach had expected him to run 12.85.
"I was not supposed to hit a hurdle, but I think I hit two.
"I'm finally doing some speed work and finally learning how to control my speed, finally attacking the hurdles fearlessly and not worried about hitting a hurdle.
"So, God is good."
Ronald Levy was a distant runnerup in 13.13, with Parchment third in 13.19.
Fedrick Dacres threw 66.52 metres to retain his discus title and improve on his world leading mark of 68.88 set in Kingston in February.
Dacres will try to better his seventh place finish at the Beijing world championships two years ago in London.
"I'm not satisfied, but I'm thankful, it shows that there is progress being made, so we are just going to go back and get it right for the world championships," he told Reuters.
Danniel Thomas-Dodd heaved 18.80 metres to win her fourth successive national shot put title, while Natoya Goule won her fifth national 800m title.
The world championships start in London from Aug. 4.
Follow Emirates 24|7 on Google News.