Dubai Sports World set for kick-off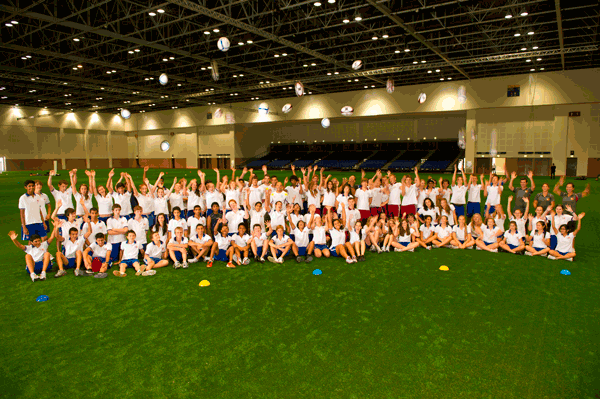 Dubai World Trade Centre (DWTC) in association with Dubai Sports Council (DSC) and Dubai Events and Promotion Establishment (DEPE) will kick-off a marathon festival of indoor sports throughout July and August from Sunday.
The largest event of its kind in the UAE, 'Dubai Sports World' will be hosted in the Dubai International Convention and Exhibition Centre and is supported by the Roads and Transport Authority (RTA) and the Dubai Department of Tourism and Commerce Marketing (DTCM).
This festival will host a range of sport and leisure activities to attract all sporting enthusiasts, including football leagues, rugby tournaments, basketball matches, beach volleyball, beach football, futsal, tennis, table tennis, gaming zones, a fitness gym and more.
Dubai Sports World is collaborating with a number of professional sporting academies and clubs including IFA Sport, Apollo Perelini Rugby Skills Academy, and other prominent sporting establishments and renowned athletic trainers to provide a world-class experience for all visitors from first-time players to experienced athletes.
Opening to the public on July 3 at 3:00pm, Dubai Sports World will be held in the interconnected halls of the Arena and Sheikh Saeed Halls 1, 2, and 3 providing nearly 25,000 square metres of dedicated sports facilities.
Approximately 600 tonnes of sand and 6,600 square metres of astro-turf have been transported to the venue in preparation for the beach sports and the full length rugby and football pitches.
With a capacity to host tens of thousands of sports and fitness fans, Dubai Sports World will open seven days a week from 6am to midnight during the month of July and from 6am to 3am during Ramadan providing almost 24 hours of nonstop fun for children of all ages, families and adults.
Participants will be mentored and coached by international and local football and rugby personalities including professional Emirati sportsmen, who will identify and nurture talent, acting as scouts for sporting stars of the future.
Helal Saeed Almarri, CEO, DWTC said: "We are pleased to launch Dubai Sports World which supports Dubai's efforts in promoting fitness and sporting activities for both residents and visitors to the UAE. This is a benchmark event for the local sporting community that will provide a unique environment for families and communities to come together, and is a testament to Dubai's continued commitment to provide state-of-the-art facilities and sporting activities to build the new generation and encourage youth to enjoy a healthy lifestyle."
"We are eagerly anticipating the first year of Dubai Sports World which will be a strong addition to Dubai's existing sporting activities, by providing a number of popular indoor sport options all under one roof. This annual event will play a key role in supporting the growth of sports in the UAE as well as giving Emiratis the chance to compete on a global playing field," said Dr Ahmed Sa'ad Al Sharif, Secretary General, DSC.
"Dubai Sports World supports the development of health and wellness education in Dubai and as such is perfectly aligned with our own campaign for health awareness," he added.
Laila Suhail, CEO, DEPE, organiser of Dubai Summer Surprises, said: "The summer months are traditionally associated with a festival atmosphere in Dubai and Dubai Sports World will be the perfect athletic complement to Dubai Summer Surprises, providing exceptional sporting facilities for youth and families to spend their free time in the summer."
"The launch of this new event supports our efforts and is aligned with DEPE's vision to make Dubai one of the most preferred summer destinations in the region," she added.
Yousef Al Redha, CEO of RTA's Corporate Administrative Support Services Sector said: "We are proud to support Dubai Sports World, which is an inspired concept by Dubai World Trade Centre to utilise their world-class facilities as an indoor multi-sports venue serving both residents and visitors alike. This annual event is a brilliant example of Dubai's commitment to supporting its position as a global destination in the region and is a testament to the exceptional infrastructure that contributes to Dubai's successful events and tourism industries."
Dubai Sports World will be open to the public from July 3 at 3:00pm to August 31 in Sheikh Saeed Halls 1, 2 and 3 and the Arena. For more information, please call 04-308-6333 to book your space.
Follow Emirates 24|7 on Google News.