French banker claims WKBF boxing title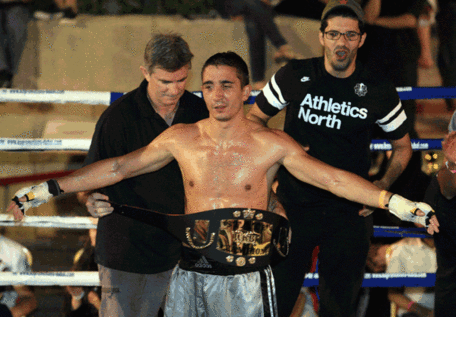 A French banker Guillaume 'the Pirate' Piatech claimed the UAE WKBF (World Kick Boxing Federation) super middleweight inter-club title on his boxing debut by defeating the more experienced Ziad 'Cruz' Tariq at the Wafi Mall on Friday night.
Piatech from Adams Gym displayed sound technique and ringcraft to outsmart Tariq from KO Gym to earn a split decision in the four-round contest.
The 'Rooftop Rumble' was presented by Adams Gym in association with Wafi Mall.
Ziad, came out swinging from the opening bell leading with right hands but Piatech calmly kept his adversary at bay, content to slip his punches and counter attack to the body.
Only a handful of punches were thrown by both boxers in the opening round. Piatech stepped up the tempo in the second round and knocked down Ziad in the third round with a right cross which tilted the scales in his favour.
"The eight standing count made the difference. It was a slip. That's why he lost. We should have won the bout," said an infuriated KO Gym coach Zack Taumafai after the bout.
Tariq, 24, of Pakistan-Filipino parentage, who suffered his second career loss in four fights was not happy with referee Dave Harper's decision to give a count.
However, Piatech's coach Shaz Janab said it was a perfect knock down. "It was landed. It connected," he said.
"We executed the game plan perfectly. We wanted to basically move around, slip his punches. We knew they would come up aggressive because that's the style of KO Gym fighters. Guillaume moved around, conserved energy and in the second round started to up the ante slipping punches," said Janab, a British ABA qualified advanced boxing coach.
"Remember Guillaume came from Thai boxing background and it was his first boxing bout against an opponent who had fought three times before," added Janab a former amateur boxer from England who is an advanced Thai boxing instructor as well.
Piatech, a semi-professional footballer in France before being attracted to combat sports, was elated with the outcome.
"I'm glad specially because the whole show was a big success. I think everybody enjoyed it pretty much. It's a big achievement personally. My technique was alright," said Piatech, 27, who had been training for two years under Janab.
"I'm very busy at work. Saving time for training is a huge sacrifice for me. It's hard to train hard. I'm not saying I'll keep doing this forever. I'm happy for my club," said Piatech when asked about his future plans.
One of the most thrilling bouts on the card of nine was the kickboxing contest between Rohail Marri and Jamil Daouk.
On an evening dominated by KO Gym fighters, Marri from 1% Gym handed KO Gym's Daouk a painful defeat.
However, to gutsy Daouk's credit, he recovered from a low blow and a bloodied nose in the second round to take the fight to his adversary who had a swelling under his left eye after a bloody contest.
Supporters of Daouk, 25, a Lebanese Human Resources executive said the referee Hassan aka Ghanian Van Damme, the reigning Light Middle weight WKPBF champion, should have disqualified his opponent for the low blow.
Marri, 19, a freelance journalist was delighted with his maiden victory. "We train hard, we fight easy," he quipped adding injury to KO Gym's slogan.
Prashanth Shekar, a 17 year-old Indian student of International Academic School also scored an impressive win over Elbert Inguish of Generation Xtreme. "I want to become a professional kickboxer and be the best," said the gangly teenage southpaw from KO Gym who used his reach to advantage.
Another impressive winner from the KO Gym was boxer Sylvester Batista who outpointed a taller Vlad Inataev of Generation Extreme. "I'm used to fighting taller opponents by working on the inside," said the 20-year-old from Portugal after notching his third victory.
The only women's kickboxing bout lived upto expectations with Libyan Nadia 'Speedy' Hamidi from KO Gym outgunning Italian Alessandra Moretti of 1% Gym.
"I just love the adrenaline and not many girls are into it," said Nadia, 23, a freelance photographer at SAE Film Production after her victory. "It was a good tough fight."
Results
Kickboxing
Ansar Khalilullayev (KO Gym) beat Rami (World Gym) RSC round two
Prashanth Shekar (KO Gym) beat Elbert Inguish (Generation Xtreme)
Nadia Hamidi (KO Gym) beat Alessandra Moretti (1% Gym)
Max Rosed (KO Gym) beat Fares (World Gym)
Rohail Marri (1% Gym) beat Jamil Daouk (KO Gym)
Chaukat Kamareddine (KO Gym) beat Jamal (World Gym) RSC round three
Boxing
Aaron 'Terminator' Burgess (KO Gym) beat Fares (World Gym)
Sylvester Batista (KO Gym) beat Vlad Inataev (Generation Extreme)
WKBF Super Middle State Inter-club title
Guillaume 'the Pirate' Piatech (Adams Gym) beat Ziad 'Cruz' Tariq (KO Gym)
Follow Emirates 24|7 on Google News.