Gatlin upstaged by Bolt's training partner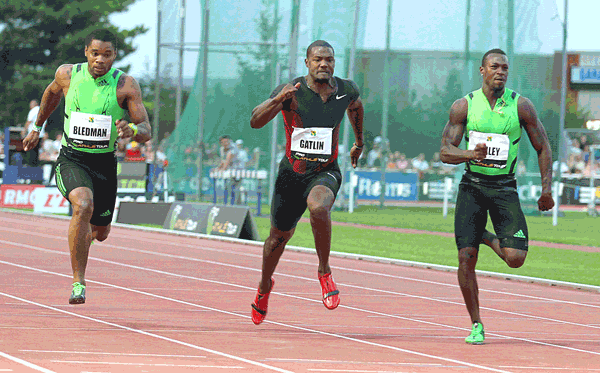 American sprinter Justin Gatlin was upstaged by Antigua's Daniel Bailey, one of Usain Bolt's training partners, in the 100m at the Reims international meet in France on Tuesday.
Gatlin, the 2004 Olympic 100m champion who was suspended for four years after testing positive for testosterone just three months after equalling the world 100m record in 2006, misjudged his lunge for the line and was edged out by Bailey (10.05sec).
Gatlin clocked 10.08sec with Trinidad's Keston Bledman in third at 0.01sec, American Darvis Patton in fourth and another Trinidadian, reigning Olympic silver medallist Richard Thompson, in fifth.
"I'll just have to put my race back together, running against great athletes like Daniel Bailey will help me," said the 29-year-old Gatlin, who has rebounded from the athletics wilderness to make the US team for the 100m at the August 27-September 4 world championships in Daegu, South Korea.
"I know exactly what I need to do when I go home and train. I need to have a better drive phase."
Bailey, who makes up world and Olympic champion Bolt's training quartet along with Jamaican duo Yohan Blake and Mario Forsythe, was left pleased with his outing.
"It's a pretty good feeling, winning against Gatlin and Richard Thompson," said Bailey, the world indoor 60m bronze medallist.
"I came out victorious, I did a pretty good job, it wasn't perfect but I finished strong. It's good ahead of the world championships."
Jamaica's Forsythe was edged out of first place in the men's 200m by one hundredth of a second by Panama's reigning world silver medallist Alonso Edwards, who finished in 20.28sec.
"I've been training hard," said Edwards. "I was injured but I'm back and am now working for the world championships. I'll do my best there."
Reigning world women's 800m champion Caster Semenya, fresh from trailing in last in the 1500m in the Lausanne Diamond League last week, failed to show any great improvements to her current form.
The pacemaker went through 400m in 59.03sec, and Semenya immediately fell off the pace and down the pack. Cuban Yuneysi Santiusti eventually won in 2:00.15, with Semenya coming in fifth in 2:01.02
"Anything can happen," said Semenya, who clocked a jaw-dropping personal best of 1:55.45 in storming to victory at the 2009 Berlin worlds but was cast into limbo soon after until July 2010 because of allegations over her true gender.
"It wasn't my day so I'll wait for next time. I'm always thinking about the letter 'w' - winning. I'm always hanging on that. I'll be ready for Friday (and the Paris Diamond League meet)."
Novlene Williams Mills, a world and Olympic silver medallist in the 4x400m relay, led a Jamaican one-two-three to win the women's 400m in 50.38sec.
But there was disaster for compatriot Veronica Campbell-Brown, the two-time Olympic 200m champion and former world 100m gold medallist making a horrible false start in the 100m and being shown the red card by the starter.
Trinidad's Kelly-Ann Batiste won the race in 11.11sec.
Kenyan Alfred Yego, the reigning world silver medallist who struck gold in the 2007 Osaka worlds and bronze at the Beijing Games a year later, wrapped up the men's 800m comfortably in 1:45.17.
Follow Emirates 24|7 on Google News.