Golden State Warriors star Stephen Curry spices up Filipino NBA treat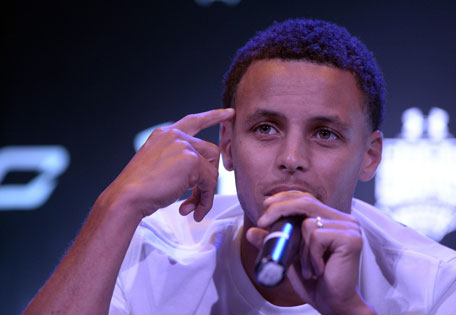 Golden State Warriors star Stephen Curry vowed to win a second straight National Basketball Association title during a visit to the Philippines on Saturday.

Curry's visit to Manila was a godsend for the tens of millions of Filipinos who play or follow the game.

"We feel like we're still the team to beat," the NBA's most valuable player (MVP) told reporters in the capital when asked about his team's odds of defending their title during the 2015-2016 season that starts on October 27.

Curry led the Golden State Warriors to the NBA title over the Cleveland Cavaliers in June, setting a record for three-pointers made in a single playoff run.

"It's going to be a different challenge for us. We've never defended an NBA championship before so it will be a new experience for us," the 27-year-old added.

"All eyes are on our team and every other team is trying to knock us off our throne, so we have to be even better than we were last year to get back to the top."

Curry won the most valuable player award in May after he helped his team win a franchise-record 67 regular season games, averaging 23.8 points, 7.7 assists, 2.04 steals and 4.3 rebounds.

The affable point guard also made 286 three-pointers, an NBA record for a single season.

However, the 2015 league MVP says he needs to maintain better ball control after losing possession 249 times over 80 regular-season games last season.

During the press conference in Manila, Curry revealed he maintains a long-running, high-stakes bet with his mother Sonya Curry, who fines him whenever he turns over the ball three or more times during a game.

"I averaged probably 3.1 turnovers last year so you can do the math on who won that agreement," he said, without revealing how money he had to cough up.

"I have to be a better player going into the next season."

Curry's trip to the Philippines comes less than a month after the archipelago nation lost out to regional rival China in an intense fight for the right to host the 2019 basketball World Cup.
Follow Emirates 24|7 on Google News.