India sacks Ukrainian coach over doping scandal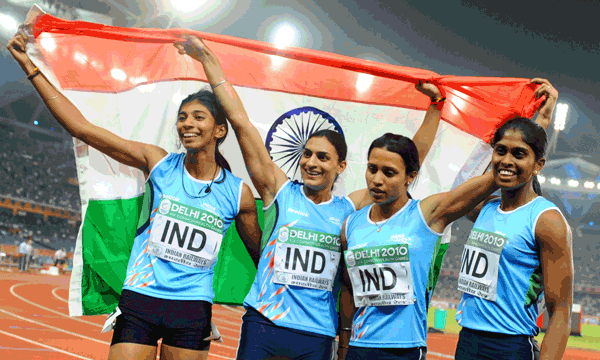 The Ukrainian coach of India's women's 400m runners has been sacked after six of them tested positive for anabolic steroids, the country's sports minister said on Tuesday.
"I have asked for his removal. He has already been removed," Ajay Maken told a news conference in New Delhi, referring to Yuri Ogrodnik, who coached three of the six to Commonwealth and Asian Games gold last year.
One of India's brightest female track stars, 400m runner Ashwini Akkunji, became the eighth Indian athlete to be caught up in a growing doping scandal, officials said on Tuesday.
Akkunji was a member of the country's Commonwealth and Asian Games-winning women's 4x400m relay team and the winner of the 400m hurdles at the Asian Games with a personal best of 56.16 seconds.
Three out of the four runners in the 400m relay team - namely Akkunji, Mandeep Kaur and Sini Jose - have now tested positive for banned steroids, the country's anti-doping agency said on Tuesday.
"An investigation has been launched by the Sports Authority of India which runs the training camps," the director-general of the National Anti-Doping Agency, Rahul Bhatnagar, told AFP.
Bhatnagar said Akkunji's 'A' sample showed traces of the same anabolic steroid found in those of the other athletes.
The athletes' 'B' samples will be tested this week, he said.
The women's 4x400m relay team had been due to compete in the Asian Championships in Japan which start later this week.
The revelations have cast a cloud over Indian athletics and look certain to rob the country of a chance for a coveted first Olympic track medal.
The women's 4x400m relay team were seen as India's biggest hope of a podium finish next year in London after their performances in New Delhi last October and Guangzhou, China, the following month.
Six women's 400m runners - Akkunji, Kaur, Jose, Jauna Murmu, Tiana Mary Thomas and Priyanka Panwar - have all tested positive for banned steroids in recent days and have been provisionally suspended.
A female shot-putter and a male long-jumper have also failed tests.
The tests were carried out either at a national training camp in Patiala, in the northern state of Punjab, in the last two months or after a track meeting in the southern city of Bangalore in late June.
The athletes have all protested their innocence and blamed contaminated food supplements for the results.
But the positive tests have led to calls for the suspension of the Athletics Federation of India governing body and a ban on using track coaches from former Eastern bloc countries - the 400m runners all used a Ukrainian coach.
NADA's Bhatnagar said the fourth member of the women's 4x400m relay team, Manjeet Kaur, had not been tested.
Follow Emirates 24|7 on Google News.