IOA removes scandal-hit Kalmadi as head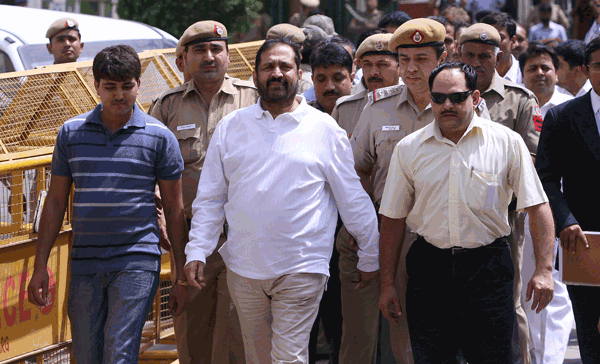 The Indian Olympic Association (IOA) removed Suresh Kalmadi, the chief organiser of the scandal-hit Delhi Commonwealth Games, as its president on Tuesday following his arrest on graft charges.
The IOA said that senior association vice-president Vijay Kumar Malhotra had been named as Kalmadi's interim substitute.
Kalmadi was arrested by the Central Bureau of Investigation on Monday for his role in handing a $31 million contract for timekeeping and scoring equipment to a Swiss firm.
"According to the IOA constitution, the senior vice president automatically takes over his duties when the president is not there," said Malhotra.
"In the event of a prolonged absence of the president, the senior vice president eventually assumes charge."
The move to replace Kalmadi came hours after a court ordered the ruling Congress party lawmaker to be held in police custody for eight days.
Kalmadi, known for his powerful political and sporting connections, was at the helm of the IOA for 15 years.
Earlier the Indian sports ministry was reported to have asked the IOA to take action to remove him.
Kalmadi is accused by police of "wrongfully restricting and eliminating competition" from other Games suppliers of timekeeping equipment. He denies any wrongdoing.
Police allege the timekeeping contract was inflated by around $21 million.
The Games were meant to showcase India's status as an emerging global power, but the sporting headlines were stolen by venue delays, shoddy construction and budget overruns in which the event's cost tripled to at least $6 billion.
Premier Manmohan Singh's government, buffeted by a string of scandals, has faced loud calls to show it intends to crack down on corruption which has undermined the administration's popularity and sparked nationwide protests.
Follow Emirates 24|7 on Google News.