Klitschko is best fighter in world: Haye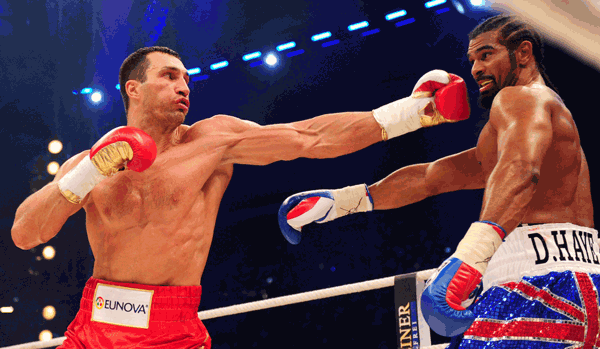 David Haye said on Monday that Vladimir Klitschko is the best fighter in the world but still believes he could beat him in a re-match after losing their world heavyweight unification bout.
The Ukrainian outclassed the Briton to win a unanimous points decision over 12 rounds to add Haye's WBA title to the WBO, IBF and IBO belts he already held.
Haye later explained he could not unleash his "Hayemaker" on Klitschko because a broken little toe on his right foot meant he could not balance or launch himself properly.
He told talkSPORT radio: "Whenever you have injuries, the last thing you do is tell your opponent because he'll aim for that.
"I couldn't push off my right foot but that's not the reason I lost the fight - he was better than me, pure and simple. I came off second best and even if I'd been 100 per cent fit I might not have won. He's the best fighter on the planet right now."
Haye said he believed he could still beat Klitschko if he gets the chance of another fight.
"I'd love a re-match but the ball is in his court. I had the title and went out to unify them, but now he's in a good position and it's up to him. If he wants another super fight he can fight me. If he wants an easy one, he can fight one of the guys who just goes over for a pay day.
"It's always been my plan to retire before my 31st birthday but I've got my fingers crossed that he'll check out how much he earned (from the fight) and realise he'll earn peanuts against anyone else compared to fighting me again.
"I'd love the opportunity to do it again and I believe on my day I could beat him. I failed this time fair and square but I'd like another crack at it. I'm very frustrated with myself."
Klitschko said a rematch was not top of his agenda and questioned how much Haye really wanted it.
"You know what? I am in the driving seat right now," the Ukrainian told Sky Sports. "And I will make the decision what I am going to do next, with David Haye or without David Haye, and it's a pretty good feeling.
"I am a pretty aware of my choices and what the next steps are going to be...David Haye is out of the window, he's out of the picture. He's out."

Follow Emirates 24|7 on Google News.