Lanka Lions aim to regain lost glory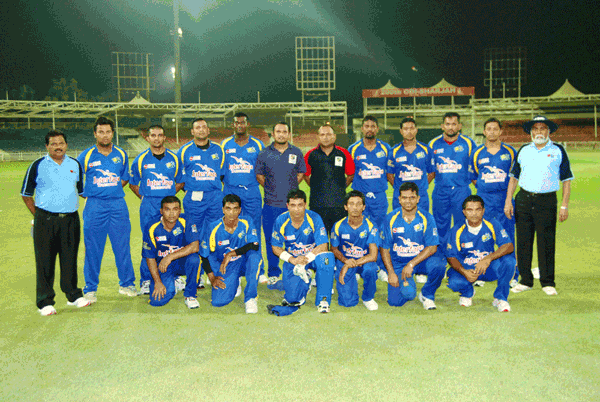 The newly elected president of Lanka Lions Sports Club Roshan Allang aims to focus his energies to help the club regain its lost prestige in cricket in the UAE.
A regular feature in domestic competitions, Lanka Lions failed to field a team for the first time in the Bukhatir League 'A' division tournament this year.
However, Allang drawing inspiration for the glorious past of the club hopes to make it a formidable force once again.
Allang was at the helm of the club in 1998 and unanimously elected for a new term at the 35th annual general meeting held in Dubai.
Ranjith De Silva a senior banker by profession was elected as his deputy in addition to an Executive Committee to further harness the Sports Club's objectives of promoting 'sport' and 'recreation' to its fellow Sri Lankans domiciled in the UAE.
Former Sri Lanka and Arabian Gulf rugby star Roger Rodrigo was elected the sports co-ordinator of the club.
Lanka Lions Sports Club is run under the auspices of the Sri Lanka Consulate in Dubai.
Over the past decades, Lanka Lions Sports Club stamped its very own identity by being a dominant force in the premier division cricket circuit by winning every single prestigious trophy that the Dubai and Sharjah Cricket Councils had on offer.
The club was proud to offer the UAE two of its finest exponents of the game namely Johanne Samarasekara and Mylvaganam Ganesh to represent the UAE in their inaugural appearance at the ICC Cricket World Cup of 1996 which was held in the sub-continent.
In the recent past, the Lanka Lions rugby team has taken centre stage by winning silverware at international tournaments.
Trophies were claimed in the Gulf Men's Division at the Dubai Sevens in 1998, 2008 and last year.
The netball stars of the club made their mark in the Dubai Women's Netball League being placed third in their division.
The club also organises social events for its members and for the benefit of the Sri Lankan community in general.
Follow Emirates 24|7 on Google News.