Red Bull look for flying season start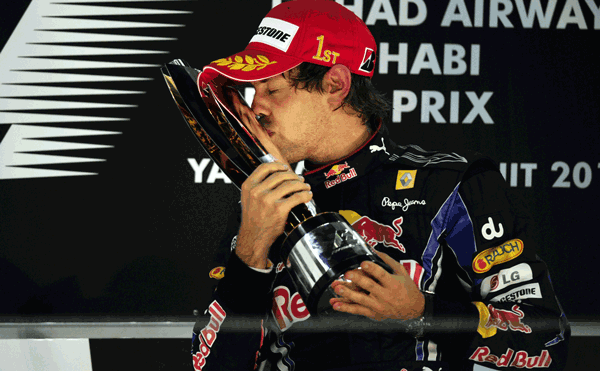 Reigning champion Sebastian Vettel and his Australian team-mate Mark Webber are bidding to give Red Bull Racing a flying start to the new Formula One season with victory in Sunday's Australian Grand Prix.
Last year the German, at 23, became the youngest F1 world drivers' champion with a showdown victory in the season-ending Abu Dhabi GP to win his first world title by just four points from Ferrari's Fernando Alonso.
Webber finished third to give the Austrian-British Red Bull team their first constructors' world title, capping a season of dominance with nine race wins and 15 poles.
Red Bull have yet to win on Melbourne's Albert Park street circuit, although Vettel was the fastest qualifier for last year's race. But given the car's rapid development bookmakers have Vettel and Webber as favourites this weekend.
Vettel, this month re-signed by Red Bull until after the 2014 season, has a chequered record in Melbourne failing to finish twice and an undistinguished 13th in three starts.
Australia's Webber, now 34 and yearning for a maiden win in his home grand prix, has not finished better than fifth in nine tilts and four times has not finished the race.
"I think we all know that we start from zero again," Vettel said. "I know I have zero points as well, like everybody else.
"I might have the number one on my car but that is about what was going on last year, and it doesn't make me any faster this year.
"I still have to work hard and squeeze every last bit out of the car to make sure we run at the front."
But Red Bull, who spent 454 more laps in the lead last season than their nearest rivals McLaren, were impressive in pre-season testing, giving every indication that they will be a force again.
"We had a good winter and we did lots of kilometres," Vettel said. "We didn't really have big problems with the car, we just had some small issues, but nothing major. The winter we had was the best we have had so far."
Webber also tried to lower expectations, saying the team was not promising to "destroy" the field in Melbourne.
"Yes, we have a good car," he said. "But we are not going to be hostages to fortune and say that we are going to destroy everybody in the first race.
"That would be naive. There will be a lot of people at the same rhythm. Ferrari are there, McLaren aren't holding back either."
Another intriguing sub-plot in the new season will be the tetchy internal relationship between Vettel and Webber.
Webber, who led the overall standings for a long spell last season before finishing third overall, has expressed his growing impatience with questions about his personal relationship with Vettel.
Their relationship soured throughout last season as their fortunes fluctuated, with the Australian claiming that the young German was being favoured by the management.
"We have learnt a lot, us two (since last season)," Webber said. "Even if it is becoming a bit like a stuck record. People continue to talk a lot about it, but it is a stuck record."
Ferrari, who have won the Melbourne race six of the last 11 years, are pinning their hopes on Spaniard Fernando Alonso, a winner here five years ago with Renault.
Alonso lost a potential third world drivers' title in last year's crunch final race and is backing his team to go all the way in 2011.
"2010 was an incredible year for me, the first year with Ferrari and I discovered a wonderful team, wonderful environment and really passionate for a driver," Alonso said.
"I think I know the team better now, I am far more integrated in the team and the feeling that has been carried out through 2010 contributed to the creation of the new one, which is more comfortable."
Briton Jenson Button, driving for McLaren, is bidding to equal Michael Schumacher's record of three consecutive Australian victories at Albert Park.
"We're not as prepared as what we'd like to be," the 2009 world champion said.
"You'd say that we're not in such a good position like the Ferraris and the Red Bulls, but you never know when it comes to racing, things change around.
"We might surprise and I might get my third victory in a row."
Follow Emirates 24|7 on Google News.