Seven champions crowned in Pro Drag Racing Series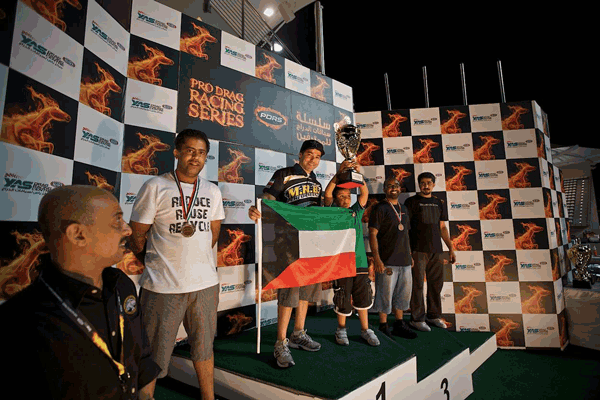 The Yas Drag Racing Centre's first-ever Pro Drag Racing series ended at Yas Marina Circuit on Friday night with seven champions being crowned.
Between the championship win and prize money already paid out for each of the four rounds, the winners and runners-up shared a total payout of Dh1.4 million.
Three of the series champions sealed the championship success with race wins on Friday.
Ali Al Kaabi won his Pro Mod class with an elapsed time of just 3.858 seconds and a terminal speed of 306.86 kmph, takingthe series with a total of 170 points. Runner-up in the race was Rashid Temeem with a time of 3.997 seconds.
Fadi Tammour clinched both the 4.80 Index (172 points) and Super Street 8 (106 points) championships, winning the 4.80 Index race in a Yas Super Comp in style from Qassin Rakan. He recorded a perfect 0.000 reaction time in the semifinal race and just 0.014 in the final - a truly rare occurrence in drag racing anywhere in the world.
"My fast reaction time actually made it quite tough in both races," Tammour said. "It was hard not to get under the 4.80-second time, so I had to slow the car down just a fraction both times to be sure of the win. I knew the championship was mine anyway but I wanted to take it with four clean wins."
Rakan recorded a time of 4.928 seconds at 243.04 kmph and a reaction time of 0.193 seconds.
Tammour's winning time was 4.959 at194.15 kmph, reflecting his need to slow down to accommodate his lightning-fast reaction time.
The 33-year-old jeweller from Syria was trained at theYas Drag Racing School this winter, obtained his National Hot Rod Association(NHRA) licence, entered the Pro Series four days later and won every one of his four races.
He took the 4.80 Index championship with 172 points and the Super Street 8 with 108. The Super Street race on Friday was won by Abdullah Al Shatti with a run of 4.833 seconds and a terminal speed of 252.33 kmph. Runner-up on the night was Mohamed Awadh with a time of 5.744 seconds.
The Pro Bike championship was won by Pro Bike Mohammed Bourashed with 120 points. He also won the final race with an elapsed time of 4.187 seconds and a terminal speed of 271.23 kmph. Runner-up was Meshal AlSaber with a time of 4.196 seconds and a terminal speed of 266.25 kmph.
The Super Street Bike championship went to Mishari Al Turki on 140 points. Al Turki also won the final race with a time of 9.708 seconds.
The Outlaw 10.5 champion's title went to Hussain Mohammed on 114 points. Winner on the night was Saood Al Zibin with a time of 4.335 seconds and a speed of 280.69 kmph. Jamal Al Jaber took runner-up spot with 4.762 seconds at 241.4 kmph.
Fahad Al Raessi won the Pro 6 championship title with205 points, but the win on the night went to H Al Tenaiji with a time of 5.26 seconds and a speed of 211.75. Runner-up was I Al Baloushi in 6.254 seconds and a speed of 216.18 kmph.
Rashed Al Qubaisi, Head of the Yas Drag Racing Centre, thanked the competitors and spectators for their support throughout the ProSeries. "This was our first professional drag racing series and I am verypleased with the outcome," he said. "The whole series was hotly contested and the final round delivered great entertainment for the crowd. We look forward to running a bigger and better race series next winter."
Follow Emirates 24|7 on Google News.