UAE face 'mission impossible' against Japan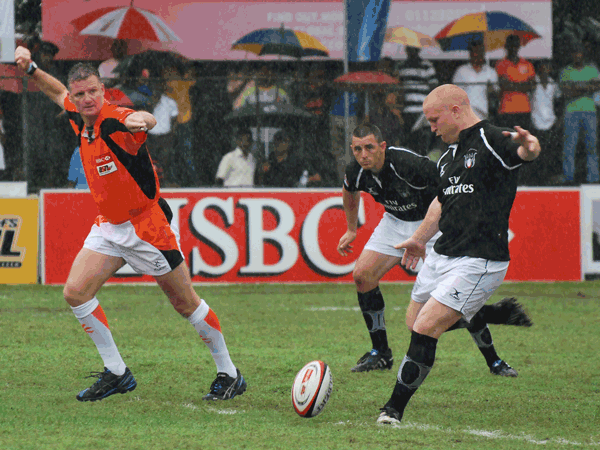 UAE are looking beyond Friday's 'mission impossible' against IRB 13th ranked Japan whom they host at The Sevens in a Top 5 HSBC Asian Five Nations rugby clash.
Buoyed by their maiden success over Kazakhstan in Abu Dhabi a fortnight ago following a 13-all away draw to Sri Lanka, UAE's coach Bruce Birtwistle is under no illusions they could topple Japan.
"Mentally the team are ready for this match," claims Birtwistle. "Our win against Kazakhstan left us with the confidence to stretch beyond our boundaries, and we are under no illusion that this match will do just that."
Already assured of retaining their Top 5 status in their maiden Asian Five Nations campaign since taking over the baton from Arabian Gulf, UAE are targeting Hong Kong who crushed Sri Lanka last week.
With this in mind, Birtwistle has reshuffled the line-up handing a debut to Abu Dhabi Hurricane's captain Jamie Clarke (flanker) and left winger Michael Hartley.
Although their first foray into this level of rugby both have played previously with the UAE team, most recently against Morocco in March of this year. Other notable changes see David Vittes selected to play in the opening line-up, at tighthead prop and Andrew Millar being rested.
"A conscious decision has been made to rest a number of players before our meeting with Hong Kong, and these resting players will be watching the tactics and plays of Japan intensely," said Birtwistle.
Japan are perched at the top of the table and remains singularly focused on securing a series hat-trick before their participation in this year's Rugby World Cup in New Zealand.
The UAE had a bye last weekend so they now sit in third position of the Asian 5 Nations table.
"We are exceptionally pleased that this game will be televised live as part of the Asian 5 Nations broadcast," said Ian Bremner UAE Rugby CEO. "Playing at the Top 5 level is a great opportunity, however playing in front of a wider audience gives (players) an extra motivation to perform well."
Kick-off is at 8pm on Friday at The Sevens. Entry is free with free face painting and flags for all kids under 13.
The UAE squad:
1. Chris Jones Griffiths – Abu Dhabi Harlequins
2. David Vittes – Dubai Exiles
3. Mike Riley (Munid Haddad) – Dubai Exiles
3. Simon Osbourne – Dubai Hurricanes
5. Mike Cox-Hill – Dubai Exiles (captain)
6. Renier Els – Abu Dhabi Harlequins
7. Jamie Clarke – Abu Dhabi Harlequins
8. Carl Von Rosenveldt – Dubai Exiles
9. David Clouston – Dubai Hurricanes
10. Jonathan Grady – Dubai Dragons
11. Michael Hartley – Abu Dhabi Harlequins
12. Duncan Murray – Dubai Hurricanes
13. John Beeton – Dubai Exiles
14. Sean Hurley – Dubai Dragons
15. Tim Fletcher – Dubai Dragons
16. Dan Heal – Dubai Dragons
17. Dan Boatwright – Dubai Hurricanes
18. Lloyd Budd – Dubai Exiles
19. Scott Kerr – Dubai Dragons
20. Stuart Quinn – Dubai Exiles
21. Cyrus Homayoun – Dubai Dragons
22. Ali Mohammed – Dubai Wasps

Follow Emirates 24|7 on Google News.